Public Engagement Framework Renewal Process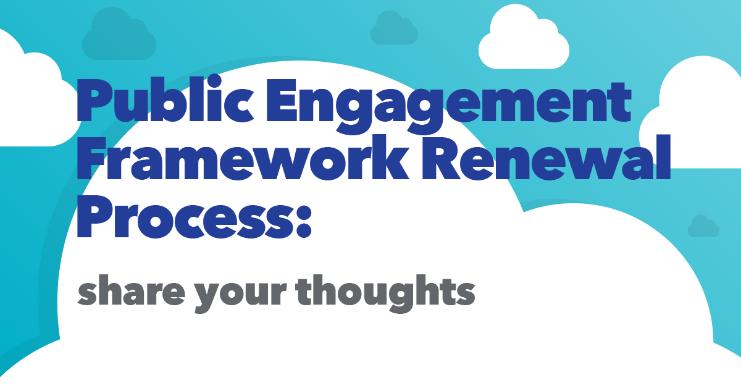 Memorial University is making a plan to guide how we work with the public on research, teaching and learning, and public engagement projects. This plan will build on the initial Public Engagement Framework which reached the end of its first phase in 2020.
The new strategy will continue the work of the Framework, offering a vision, values, and definition for public engagement at Memorial, along with goals and objectives to help guide the university's collaborations with the public related to research, teaching and learning, and public engagement projects. The new strategy will also address barriers that were identified as part of OPE's evaluation of the Framework, and integrate emerging opportunities and other Memorial guiding documents (including Transforming Our Horizons, Memorial's Strategic Plan.)
Of course, a strategy focused on public partnerships and collaboration needs to be shaped in an engaged way! Over the Fall of 2023, the Office of Public Engagement will conduct a broad dialogue process, asking members of the Memorial community, including students, faculty, staff, alumni, and members of the public, to share their perspectives, concerns, and ideas about how Memorial interacts with the public in relation to research, teaching and learning, and public engagement.
Fall 2023 Public Engagement Framework Renewals Process (currently under development)
Separate dialogue sessions are being held for different groups of stakeholders. Please see below to see that one that fits your connection to Memorial.
Registration is now open for our sessions for members of the public, Memorial alumni, and Memorial public partners:
St. John's: Thursday, September 28, 12:00-1:30, Emera Innovation Exchange and online. Register for the St. John's public session here.
Corner Brook: Thursday, October 12, 11:30-1:00, Centre for Research and Innovation and online. Register for the Corner Brook public session here.
Happy Valley-Goose Bay: Monday, November 6th, 3:00 - 4:30, Water and Ice Classroom, Labrador Campus. Register for the Happy Valley - Goose Bay public session here.
Registration is also open for our campus sessions for Memorial faculty, staff, and students:
St. John's: Wednesday, September 27, 12:00-1:30, McCann Centre (ED 2030B) and online. Register for the St. John's Campus session here.
Marine Institute: Tuesday, October 3, 12:00-1:30, MI Conference Centre and online. Register for the MI session here.
Grenfell Campus: Wednesday, October 11, 12:00-1:30, Airport Lounge (AS 2CO2) and online. Register for the Grenfell Campus session here.
Signal Hill Campus: Tuesday, October 17, 12:00-1:30, online only. Register for the SHC session here.
Labrador Campus: Monday, November 6th, 10:00 - 11:30, in-person only. More details to be sent directly to staff through the Vice-Provost.
Further community feedback will be collected via:
1-on-1 conversations with public groups and organizations (groups and organizations have been identified through conversations with Memorial deans and directors, and will also be invited to participate through an open call.)
Submissions through Memorial's Community Hubs (These sessions will be facilitated by the hubs in locations across Newfoundland and Labrador)
Thematic meetings (These meetings will focus on key areas emerging through the evaluation and consultations processes, and will include direct invitations to relevant groups, along with open invitations.)
Online input Members of the public are invited to share feedback online through this link. Students, Faculty, and Staff are encouraged to participate in the sessions above, but will be provided with an input link later in the process.
Details about all of the opportunities to share will be posted on this website as they are available. If you've got specific questions, please email us directly at engagement@mun.ca.
Steering Committee
The strategy development process is being conducted in partnership between OPE and a Steering Committee that includes an equal number of invididuals from within Memorial and the public. The members are located all across the province (and beyond) and all bring a wealth of experience in public engagement to the process.
Our Steering Committee members are:
Mishal Abdulla, Community Connection Officer, Association for New Canadians
Ashlee Cunsolo, Vice Provost and Dean, School of Arctic and Sub-Arctic Studies, Labrador Campus
Mireilla De Oliviera Leis, Science Advisor, Ecosystems and Oceans Science at Fisheries and Oceans Canada
Nat Hurley, Dean, HSS, Memorial University
Jillian Kavanagh, Manager, Office of the President, Marine Institute
Maisam Najafizada, Faculty Lead, Global Health and Health Equity, Division of Community Health and Humanities, School of Medicine
Stanley Oliver, Manager of Indigenous Relations & Trades NL: Indigenous Skilled Trades Office, Trades NL
Jennifer Penney, Economic Development Officer, Department of Industry, Energy and Technology, Government of Newfoundland and Labrador
Kristin Pittman, Manager, Indigenous Affairs, Grenfell Campus
Theresa Pittman, AVP Connected Learning, CNA
Lloydetta Quaicoe, Founder and CEO, Sharing our Cultures
Dr. Peter Ride, Dean, School of Fine Arts, Grenfell Campus
Dr. Janna Rosales, Associate Professor (Teaching), Faculty of Engineering and Applied Science, St. John's Campus
Josh Smee, CEO, Food First NL