Memorial hosting international workshop on information theory
Jun 30th, 2015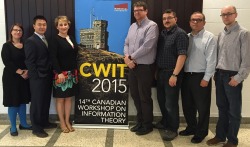 Memorial hosting international workshop on information theory
The 14th Canadian Workshop on Information Technology (CWIT 2015) will be held in St. John's from July 6-9. It will be the first time this biennial, research-oriented workshop will be held in Newfoundland.
The workshop covers areas related to information and communication technology (ICT), which are of interest to academics, professionals and industries in this field.
The workshop brings together experts in ICT and highly renowned international scholars. Plenary Speaker Monique Morrow, the chief technology officer (CTO) of Evangelist New Frontiers Development and Engineering at Cisco Systems, will describe the key attributes, passion and self-confidence, that is needed to impart a new generation of engineers and computer scientists. Vahid Tarokh of Harvard University will present major new results in extreme value theory, along with its applications, along with Moe Win from the Massachusetts Institute of Technology, who will provide an overview of his latest results in the fundamental limits of network localization and navigation.
Conference Chair Dr. Octavia Dobre, a professor of electrical engineering at Memorial University, is expecting more than 100 attendees. She is excited to showcase the research being done here at Memorial as well as the opportunity to advance ICT, which is becoming increasingly important in society.
"With ICT being recognized by Memorial as a strategic research area, and being included in the "Blueprint for Prosperity" report and innovation strategy by the Government of Newfoundland and Labrador's Department of Business, Tourism, Culture and Rural Development, this workshop is the perfect opportunity to promote business, collaborations and knowledge transfer at the local, national and international levels," said Dr. Dobre. "ICT has become part of our everyday life, with wide applications ranging from wireless cellular to local and personal area communications, from optical wireless for short distance to optical fiber for long-haul communications, from underwater acoustic to satellite communications."
For the first time, the workshop will include an industry-academia panel, a session where top experts from both business and research in the ICT field will discuss challenges and rewards of collaboration. The workshop will also include invited talks given by internationally renowned experts, along with oral and poster sessions selected from peer-reviewed papers.
Dr. Dobre has been instrumental in bringing this year's workshop to St. John's and, along with the organizing committee, has spared no effort to make it one of the best. Dr. Greg Naterer is dean of Engineering and Applied Science at Memorial and commends Dr. Dobre on her initiative and enthusiasm to bring the workshop to St. John's.
"This conference provides a great opportunity to raise Memorial's profile nationally and interact with leading researchers on the latest emerging technologies of ICT," said Dr. Naterer. "Special thanks to Dr. Dobre for her efforts and exceptional leadership of the workshop."