Memorial engineering student to compete on Canada's Smartest Person
Oct 22nd, 2015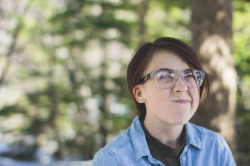 Memorial engineering student to compete on Canada's Smartest Person
Could fourth-year electrical engineering student Katy Warren be Canada's Smartest Person? The St. John's-native decided to try out for CBC's competition series, Canada's Smartest Person, after she watched an online ad for the show.
"I told my mom that I thought it would be funny to apply," she chuckled. "My mom thought it would be funny, too, and so I applied."
Ms. Warren filled out an online application and received a call a few weeks later. The producers liked her application and she was asked to do an intelligence interview via Skype. Following the Skype interview, she had to answer a lot of questions and complete a lot of forms but it was all worth it. She is one of four competitors as part of the show's fourth round of contestants.
Ms. Warren says while she is super excited, she is also very nervous.
"Of course I'm nervous," she said. "There are some seriously brilliant folks competing with me this Sunday, and I know they'll be bringing their A-game. I think, though, it's a good kind of nervous – just right to get the energy up and keep me on my toes.
Participants for the series are chosen after undergoing a rigorous competition process including a series of tests to prove they have what it takes to compete for the title. Each week, viewers can play along in real-time with the show's app, available for iOS and Android devices.
The show, starring Ms. Warren, will air this Sunday, October 25 at 8 p.m. (8:30 NT) on CBC TV.