Dr. Octavia Dobre elected as editor-in-chief of international journal
Jan 11th, 2016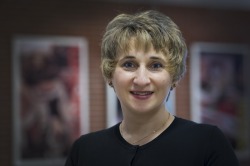 Dr. Octavia Dobre elected as editor-in-chief of international journal
Dr. Octavia Dobre, associate professor, Faculty of Engineering and Applied Science, has been elected as editor-in-chief of IEEE Communications Letters.
IEEE Communications Letters is the premier international source of technical content on the theory and practice of communications technology. It includes original research articles, short communications in theoretical and applied topics, and research that fosters innovation and collaboration within the communications community.
"It is a tremendous honour and privilege to serve as the editor-in-chief of the IEEE Communications Letters," said Dr. Dobre. "I consider this position not only an exciting opportunity to steer the course of one of our top journals, but also a pleasure to serve the technical community."
Dr. Dobre joined Memorial in 2005. In 2013, she was a visiting professor at the Massachusetts Institute of Technology, USA, and the Université de Bretagne Occidentale, France. Previously, she worked at the New Jersey Institute of Technology, USA and Polytechnic Institute of Bucharest, Romania.
She is the recipient of the 2015 President's Outstanding Research Award at Memorial. In 2001, she was awarded a Fulbright fellowship at Stevens Institute of Technology, New Jersey.
Her research interests focus on wireless and optical communications. She has published more than 170 journal and conference papers in these areas, and has given more than 40 invited talks to industry and academia around the world. Her research has been funded by federal, regional and provincial agencies, as well as by governmental laboratories and industry.
"I am delighted that Dr. Dobre's exceptional contributions to the technical society, her leadership in the field of communications research and service to the engineering profession have been recognized," said Dr. Greg Naterer, dean of the Faculty of Engineering and Applied Science. "This honour of the journal editorship is well deserved."
Dr. Dobre has served as technical chair for numerous IEEE flagship conferences, as well as chair and vice-chair of various IEEE Technical and Standing Committees. She was recently the conference chair of the 2015 Canadian Workshop on Information Theory in St. John's.