John Walsh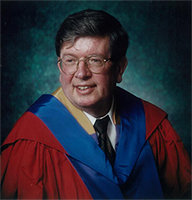 Diploma in Engineering, B.Eng. (Hons.), PhD
Academic Career
Dr. John Walsh's distinguished career as an electromagnetics engineer began on his graduation from Memorial University of Newfoundland with a diploma in engineering. At that time, he received the Award of Excellence from the Association of Professional Engineers of Newfoundland and went on to receive B.Eng. (Hons.) and PhD degrees from the Technical University of Nova Scotia and the University of Calgary, respectively.
After teaching at Concordia University for two years, Dr. Walsh came back to Newfoundland in 1972 to assume a faculty position at Memorial. His career progressed uninterruptedly, and he variously held the positions of professor in Memorial's Faculty of Engineering and Applied Science; adjunct professor in electrical engineering at the University of Victoria; technical director of the Remote Sensing Group at the Centre for Cold Ocean Resources Engineering (C-CORE); founding chairman of Northern Radar Systems Limited (NRSL), now Northern Radar Incorporated (NRI); vice-president, Technical of NRI and honorary research professor, Memorial University. Up until his death in 2013, he held the titles of professor emeritus at Memorial University and vice-president, Technical with NRI.
Research and Professional Activities
Dr. Walsh authored or co-authored approximately 70 refereed, open-literature papers, some of which won "Best Paper" awards and many that were invited papers including those submitted to the AGARD Specialists Meeting at Rome, Italy and to the Union of Radio Science International's General Assembly in Florence, Italy; 13 major technical reports and numerous other publications including a paper of scientific significance which was published in the Proceedings of the Royal Society, London, England. In addition, he co-authored a book section with one of his former PhD students which reflects some of his research in electromagnetics with application to ground wave radar (GWR) technology.
Dr. Walsh's research interests encompassed a number of areas. However, after 1976, the principal focus was in the areas of applied electromagnetics and applied mathematics applicable to electromagnetic problems. His research led to the evolution of a new method for formulating and solving electromagnetic propagation and scattering problems. The technique has been, and continues to be, successfully applied to rough surface propagation and scatter, mixed paths with discontinuities, layered media propagation and scattering and problems involving multiple scatterers. The practical application of this research has been of significant interest to the Department of National Defence, the oil industry, search and rescue, and other agencies, nationally and internationally, due to its ability to detect and track ships, icebergs and low-flying aircraft and to measure surface currents and wave heights on a real-time basis. The range of the system is up to 200 nautical miles from land following the curvature of the earth, well beyond the range of conventional radars, and it has been successfully marketed for defence, sovereignty, enforcement and tracking purposes.
While serving as technical director at C-CORE during the 1980s, Dr. Walsh secured Natural Sciences and Engineering Research Council (NSERC) strategic grants and major NSERC cooperative research and development grants to allow highly successful programs in the detection and tracking of sea ice and in ocean parameter estimates with GWR systems. In fact, coupled with funding from C-CORE associates and the Department of National Defence, Dr. Walsh's initiative in those years brought in an excess of $8.5 million to the Remote Sensing Group. As noted by C-CORE, one of its most long-lasting and profitable relationships was with Dr. Walsh. Also, during that period, Dr. Walsh was largely responsible for bringing other highly qualified personnel into Memorial's remote sensing community. The effects of these acquisitions continue to be evidenced as, in turn, these individuals have disseminated their knowledge and skills to many individuals in the local university environment. In a press release in 2008, the Newfoundland Minister of Innovation, Trade and Rural Development said that this work had contributed to the province earning a reputation for excellence in the area of ocean technology.
When NRSL was spawned from C-CORE, largely as a result of the intensive research and development initiated and sustained by Dr. Walsh, he became founding chairman of the company while maintaining his professorship at Memorial. Simultaneously, he ensured that work term students from both the Faculty of Engineering and Applied Science and the Faculty of Business Administration and engineering graduate students were provided fertile ground in which to grow their expertise and further their research. Several of these students have found employment in high-profile companies throughout Canada.
Dr. Walsh's past accomplishments in association with Memorial University, C-CORE and NRI speak for themselves and his many peer-reviewed publications are indicative of the quality and depth his work continues to command internationally.
Academic Service
As a professor with Memorial's Faculty of Engineering and Applied Science, Dr. Walsh chaired NSERC's Scholarship & Fellowship Selection Committee and was a member of the NSERC Electrical Engineering Grant Selection Committee and the NSERC Site Visit Committee for Computer and Research Chairs (for McMaster University and UBC). He also served on Memorial's President's Faculty Appeal Committee, the President's Grant Selection Committee, the Department of Physics Review Committee (Senate) and the Undergraduate and Graduate Studies Committee, Faculty of Engineering.
Post Retirement
After retiring from Memorial University in 1996, Dr. Walsh continued to be intimately involved, not only in NRI but in electromagnetic engineering research. He continued to obtain research grants and to publish and co-author papers on electromagnetics. Perhaps one of the most visible aspects of the latter is the fact that on several occasions, his graduate students won the David Dunsiger Award (Engineering) for thesis excellence and his PhD students have won the Dean of Graduate Studies (university-wide) Award for thesis excellence and the Governor General's Gold Medal (Graduate Studies).
Through the use of teleconference and communications technology, he maintained his very active academic and professional activities while spending time both in St. John's, Newfoundland and Victoria, B.C.
Honours/Awards/Accreditation
Award of Excellence (Association of Professional Engineers of Newfoundland)