Dr. Md Azizur Rahman (in memoriam)
Jun 26th, 2018
BY DR. DENNIS PETERS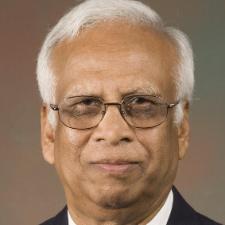 Dr. Azizur (Aziz) Rahman, a longtime electrical engineering professor in the Faculty of Engineering and Applied Science, has passed away.
Dr. Rahman joined Memorial University in 1976 and remained an active and dedicated educator and researcher until the moment of his passing in June 2018.
Dr. Rahman was a strong proponent of Memorial University and of his adopted home, Newfoundland and Labrador, and took great pride in seeing his former students become successful.
He was a dedicated educator who strongly believed in the importance of 'hands on' experience for young engineering students and always sought opportunities to provide it, whether it be through classroom demonstrations, laboratory exercises or field trips to nearby hydroelectric stations.
"I had the privilege and honour of working with Prof. Azizur Rahman for nearly a decade," said Sheikh Fazle Rabbi. "He was my supervisor, mentor, colleague and teacher. He instilled in me a strong work ethic and passion for innovations. With his passing, the engineering world has lost a visionary researcher and leader in electric machines and drive systems. Prof. Rahman made an ever-lasting contribution to clean energy technologies and his legacy will inspire future generations of engineers and innovators around the world."
His research contributions were broad, but he is perhaps best known for his contributions to Interior Permanent Magnet (IPM) motors, which are a significant enabling technology in a wide range of electric motor applications today ranging from vacuum cleaners to electric vehicles and aircraft. He regularly traveled globally to present research and consult with industrial companies. In recent years his research focused on machines, intelligent controls, power systems, digital protection, power electronics, magnetic materials and wireless communication.
He had a reputation among students for his wide, colourful neckties that were fashionable in the 1970s, but less so in more recent years. His students would organize Rahman Tie Days when everybody would wear the widest and most colourful tie they could find in their father's closet or the local goodwill store. Dr. Rahman would share a good laugh with the students at the sight of practically the whole class dressed in such loud ties.
Dr. Rahman was a highly respected professor and research professor for more than 50 years.
He won numerous major professional awards. He published 757 papers including 196 IEEE Transactions papers, 11 patents and two books. He also contributed 10 chapters for other research and academic publications. In 2011 Dr. Rahman co-authored the first book, entitled "An Introduction to Wavelet Modulated Inverters."
Dr. Rahman was born in Santahar, Bangladesh. He received the B.Sc. Degree from Bangladesh University of Engineering and Technology (BUET), Dhaka, a M.A.Sc. from the University of Toronto and his PhD from Carleton University in Ottawa, Ontario, all in electrical engineering in 1962, 1965 and 1968 respectively.
He was a registered professional engineer in the Province of Newfoundland and Labrador, a member of the Institution of Electrical Engineers in Japan, a Fellow of the Institution of Engineering and Technology in the United Kingdom, a Fellow of the Engineering Institute of Canada, a Life Fellow of the Institution of Engineers Bangladesh, a Life Fellow of the I.E.E.E., a Fellow of the Canadian Academy of Engineering and a Fellow of the Royal Society of Canada.
Dr. Rahman's web profile can be viewed here.
Dr. Dennis Peters is the head of the Department of Electrical and Computer Engineering. Dr. Peters spoke about Dr. Rahman's legacy with CBC's Jamie Fitzpatrick on June 19 and you can listen to the interview here.