Wade Locke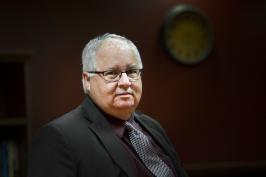 Professor of Economics, Memorial University of Newfoundland
Dr. Leonard Wade Locke is a Full Professor of Economics at Memorial University of Newfoundland. He specializes in the Newfoundland and Labrador economy, resource economics, public finance, public policy, innovation indicators, productivity, economic impact assessment and cost-benefit analysis. He has published extensively in a variety of public policy fields. In addition, Dr. Locke has provided his professional services to all three levels of government, to foreign governments and to national, local, regional and international businesses. He has served as an expert commentator and analyst to the local, national and international media. He is also a past president of the Atlantic Canada Economics Association and is a senior policy advisor to the Atlantic Provinces Economic Council. His research has had a major impact on public policy, particularly on the public finance of the Province of Newfoundland and Labrador and the development of its oil and gas resources.
Dr. Locke's formal training consists of a Ph.D. (Econ) and M.A. (Econ) from McMaster University and a B.A. (Econ) and B.Sc. (Biology) from Memorial University. He also has a certificate in Applied Petroleum Economics from Van Meurs Associates through the Centre for Management Development (MUN). He was a gold medal winner in economics at MUN and won a SSHRC Doctoral Fellowship and several university scholarships at McMaster University. He returned to the Newfoundland and Labrador in 1984 and accepted an appointment in Economics at Memorial.
When he returned to Newfoundland and Labrador, the province's petroleum industry was about to take off and he conducted seminal economic research on the Hibernia project. He was also asked to develop an economic model of the Hibernia project for the provincial government. His pioneering work in this area established him as an expert in the economics of the Province's natural resources.