About CARE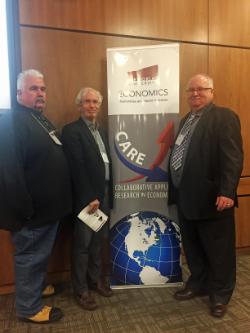 The Collaborative Applied Research in Economics (CARE) initiative brings together applied research economists who are located in Newfoundland and Labrador, the Maritimes and throughout Canada. Its objective is to promote applied economic research within the region with a view to facilitating an enhanced understanding of our economies and any associated wider social impacts.
As part of satisfying its research agenda, CARE endeavors to involve students in exciting real-world research projects in order to improve their skills. Hopefully, the integration of students within the supported applied research projects, CARE researchers will stimulate students' interests in carrying out further research in these areas and, in so doing, will both increase the knowledge capital of the region and provide skills to these students that will make them more productive employees when they enter the job market.
In addition to releasing the Labour Market Observer and CARFOR (our month forecast of key economic indicators), CARE provides information videos to make complex economic concepts accessible to the general public, presentations on interesting and relevant economics issues of the day, panel discussions on various aspects of public policy, commentaries on important economic debates/discussion and generates and disseminates knowledge through the support and publication of research topics that run the gamut from income inequality, poverty, social progress, productivity and innovation, discrimination and health, mental health and insurance, economic well-being, performance of young cancer survivors, gender wages gaps, economic impacts of cruise tourism, universities and the community sector, culture and heritage, resource studies involving the fishery, electricity, oil and gas, the environment, taxation, and royalty analysis.