Research and Publications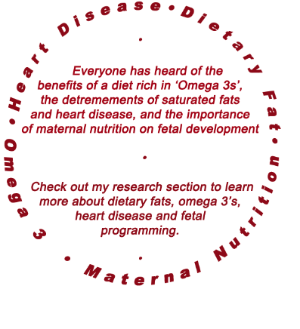 Key words:
Nutritional biochemistry, in-utero programming, gene regulation, nutrients in health & disease, lipids and lipoproteins, cholesterol, atherosclerosis, diabetes, obesity, brain health.
Current Research Projects:
Maternal diet and offspring metabolism: Maternal nutrition during pregnancy plays a critical role in predisposing an individual to the development of adult diseases. The concept of "fetal programming" or "developmental origins of health & disease" (DOHAD) suggests that maternal dietary imbalances during pregnancy create an adverse intrauterine environment for the developing fetus. Our research group has been investigating how maternal diet, especially the type and the amount of fat in the mother's diet, affects the regulation of offspring metabolism, thereby predisposing them to a higher risk of diseases in later years. We study the regulation of metabolic pathways important in cardiovascular disease, diabetes, obesity and brain health.
Maternal diet and pregnancy outcome: Omega (n)-3 polyunsaturated fatty acids (PUFA) have been suggested to elicit several health benefits, such as reducing the risk of heart disease and inflammation. Studies have also reported that n-3 PUFA prevent pre-term births, pre-eclampsia, gestational diabetes, and prolong gestation; however, the mechanisms are underexplored. Our research group is investigating the mechanisms by which n-3 PUFA regulate maternal metabolism during pregnancy, thereby affecting pregnancy/fetal outcome.
Health benefits of marine species: The cold waters of the Atlantic Ocean house several marine species that possess novel properties to provide health benefits. Our research group is collaborating with scientists and industry to explore the nutrient composition of marine species and their health benefits.
Breast milk composition and offspring health: Our research group is collaborating with clinician scientists to investigate the impact of breast milk composition on the health of the newborn. We are using cell culture models to investigate the mechanisms by which breast milk components regulate metabolism.
Select Publications:
Cheema SK, Isesele PO, Marchando S, Edwards M and Torchia EC (2020). Suppression of very long chain fatty acids is associated with skin carcinogenesis. Journal of Investigative Dermatology (in press).
Feltham BA, Balogun KA and Cheema SK (2019). Omega-3 polyunsaturated fatty acids have an age and sex-specific effect to regulate stearoyl-CoA desaturase-1 and myelin basic protein in the cerebellum of C57BL/6 mice. Pros. Leuk. Essent. Fatty Acids 148, 16–24.
Routray W, Dave D, Cheema SK, Ramakrishnan VV and Pohling J (2019). Biorefinery approach and Environment-friendly extraction for sustainable production of astaxanthin from marine wastes. Critical Reviews in Biotechnology 39(4): 469–488.
Pham TH, Zaeem M, Fillier TA, Nadeem M, Vidal NP, Cheema SK, Cheema M, Thomas RH. (2019). Targeting Modified Lipids during Routine Lipidomics Analysis using HILIC and C30 Reverse Phase Liquid Chromatography coupled to Mass Spectrometry. Scientific Reports 9: 5048.
Cheema SK, Tappia PS and Dhalla NS. (2019). Modification of gene expression in rat cardiomyocytes by linoleic and docosahexaenoic acids. Canadian Journal of Physiology and Pharmacology. DOI: 10.1139/cjpp-2018-0398.
Akerele OA and Cheema SK. (2018). A diet enriched in longer chain omega-3 fatty acids reduced placental inflammatory cytokines and improved fetal sustainability of C57BL/6 mice. Pros. Leuk. Essent. Fatty Acids. 137: 43-51.
Myrie SB, McKnight LL, King JC, McGuire JJ, Van Vliet BN, Cheema SK, Bertolo RF. (2017). Intrauterine growth-restricted Yucatan miniature pigs experience early catch-up growth leading to greater adiposity and impaired lipid metabolism as young adults. Applied Physiology Nutrition and Metabolism, 42(12):1322-1329.
Alsubheen SA, Ismail M, Baker A, Blair J, Adebayo A, Kelly L, Chandurkar V, Cheema S, Joanisse DR, Basset FA (2017). The effects of diurnal Ramadan fasting on energy expenditure and substrate oxidation in healthy men. Br J Nutr. 11(12):1023-1030.
Gangadaran S and Cheema SK. (2017). A high fat diet enriched with sea cucumber gut powder provides cardio-protective and anti-obesity effects in C57BL/6 mice. Food Research International. 99(1): 799-806.
Akerele OA and Cheema SK. (2017). A low fat diet enriched in fish oil increased lipogenesis and fetal outcome of C57BL/6 mice. Reproduction. 154(2): 153-165.
Vaidya HB, Gangadaran S and Cheema SK (2017). A high fat-high sucrose diet enriched in blue mussels protects against systemic inflammation, metabolic dysregulation and weight gain in C57BL/6 mice. Food Research International, 100(2): 78-85.
Vaidya HB, Gangadaran S and Cheema SK. (2017). An obesogenic diet enriched with blue mussels protects against weight gain and lowers cholesterol levels in C57BL/6 mice. Nutrition Research, 46: 31-37.
Vaidya HB and Cheema SK. (2018). Breastmilk from Newfoundland population with a higher omega-6 to omega-3 fatty acid ratio induced cellular events similar to insulin resistance and obesity in 3T3-L1 adipocytes. Pediatric Obesity, 13(5):285-291.
Akerele OA and Cheema SK. (2016). A balance of omega-3 and omega-6 polyunsaturated fatty acids is important for pregnancy establishment and outcomes. Journal of Nutrition & Intermediary Metabolism, 5:23-33.
Balogun KA and Cheema SK. (2016). Dietary omega-3 polyunsaturated fatty acids reduced adipocyte hypertrophy by downregulating acyl CoA:diacylglycerol acyltransferase-2 and fatty acid binding protein-4 in a sex dependent fashion. Lipids, 51(1):25-38.
Akerele OA and Cheema SK. (2015). Fatty acyl composition of lysophosphatidylcholine is important in atherosclerosis. Medical Hypothesis, 85: 754-760.
Vaidya HB and Cheema SK. (2015). Arachidonic acid has a dominant effect to regulate lipogenic genes in 3T3-L1 adipocytes compared to omega-3 polyunsaturated fatty acids. Nutrition Research, 59:25866.
Vaidya HB and Cheema SK (2014). Sea cucumber and blue mussel: new sources of phospholipid enriched omega-3 fatty acids with a potential role in 3T3-L1 adipocyte metabolism. Food and Function, 5: 3287-3295.
Balogun K, Randunu R and Cheema SK. (2014). The effect of dietary omega-3 polyunsaturated fatty acids on plasma lipids and lipoproteins of C57BL/6 mice is age and sex specific. Prost. Leukot. Essent. Fatty Acids, 91(1-2):39-47.
Deepika D, Vegneshwaran, VR, Julia, P, Sukhinder, KC, Sheila, T, Heather, M and Wade M. (2014). Investigation on oil extraction methods and its influence on omega-3 content from cultured salmon. J. Food Process. Technol. 5:401.
Vaidya H, Goyal RK and Cheema SK. (2014). Acetylated and propionated derivatives of swertiamarin have anti-adipogenic effects. J. Pharmacol. Pharmacotherapeutics 5 (4): 232-238.
Balogun KA and Cheema SK. (2014). The expression of neurotrophins are differentially regulated by omega-3 polyunsaturated fatty acids at weaning and postweaning in C57BL/6 mice cerebral cortex. Neurochemistry International, 66:33-42. doi: 10.1016/j.neuint.2014.01.007.
Balogun K, Albert CJ, Ford DA, Brown RJ and Cheema SK. (2013). Dietary omega-3 polyunsaturated fatty acids alter the fatty acid composition of hepatic and plasma bioactive lipids in C57BL/6 mice: A lipidomic approach. PLoS One 8(11):e82399. doi: 10.1371/journal.pone.0082399
Ahmed A, Balogun K, Bykova N and Cheema SK. (2013). Novel regulatory roles of omega-3 fatty acids in metabolic pathways: A proteomic approach. Nutrition and Metabolism 11 (1):6. Doi: 10.1186/1743-7075-11-6).
Vaidya H, Ahmed A, Cheema SK and Goyal RK. (2013). Glycogen Phosphorylase-A is a common target for anti-diabetic effect of iridoid and secoiridoid glycosides. J. Pharmacy Pharmaceutical Sciences 16(4):530-540
If interested in other publications from our research group please contact Dr. Cheema at email address: skaur@mun.ca