Q&A: Developing Experiential Learning Opportunities for Students
By Jennifer McVeigh
Have you ever wondered how Memorial students can use their skills and expertise to make meaningful contributions to communities in Newfoundland and Labrador, while gaining unique experiences they could not access from inside a classroom? Experiential learning is one way.
Experiential learning is part of Memorial's Teaching and Learning Framework 2023. It's characterized by learning through doing, then reflecting on the activity, the process, and understanding important lessons to carry forward into future action. Experiential Learning and subsequent reflection gives students opportunities to deepen learning and discover what truly interests them.
Starting in 2019, Dr. Shannon Lewis-Simpson, then Experiential Learning Coordinator with Student Life and Adjunct Professor of Archaeology, collaborated with Joan Butler, then Chair of Heritage New Perlican, to develop a variety of experiential learning opportunities within the community. These included archeology students documenting and preserving historic cemeteries, folklore students interviewing residents about local traditions, and students researching opportunities for tourism and economic development.
Their work has been supported by Memorial's Public Engagement Accelerator Fund, designed to help faculty, students and staff collaborate with partners outside the University. The fund offers up to $10,000 to support the initiation or extension of public engagement projects that link to Memorial's academic mission. The Student Experience Office provided administrative support and connections between faculty and community to facilitate these opportunities.
How long have you both been working together in New Perlican? What is it that drew you to the community, and to each other?
Joan: I feel as if I have known Shannon a long time, however, I think officially met her about five years ago when we were connected through Dale Jarvis of Heritage NL, and others who were interested in the work we were doing in New Perlican. I did start working with her in 2017 when she got involved in looking at our Bloody Point Cemetery.
I have been connected to New Perlican since 1982, and involved in the Heritage Committee in some capacity since 2007. When we decided to apply for the Accelerator Fund, it was decided I would be the main contact due to my experience and knowledge of the community and the project.
Shannon: I was looking for opportunities for experiential learning for archaeology, folklore, and history students. In 2017, the Student Experience Office, Student Life collaborated with Heritage Newfoundland and Labrador and Heritage New Perlican to hold a "Heritage New Perlican Cemetery Day", when we took 30 or so students out to clear brush and cut away growth from headstones in one of New Perlican's historic cemeteries, assist in the location of forgotten graves, and help compile a database of grave marker information. We also had a presentation by then MA student Robyn Lacy, on how to tend to headstones without doing damage, as well as to learn about symbology on the headstones. Heritage New Perlican is a vibrant, engaged group, and I knew that the community was a good place for future student learning, so I was happy to engage further with them.
How do you introduce new students to the project and to the community?
Joan: We would normally invite the students to one of our Heritage Committee meetings or just arrange a casual get together and learn about our work and the community. We have a Heritage Room with all of our documents, photos, and artifacts, so we encourage them to explore that space. We have a vibrant Facebook group which has over a thousand members, and hundreds or perhaps thousands of photos and documents about the community. This is a valuable resource. We have a few respected elders in our community, and we often arrange for our students to contact or meet them. One notable one is Dr. Phil Warren (Honorary Doctor of Laws, 1998), who is always available to us.
Since 2020 we have had to do our work differently, so we use telephone, email, video conferencing, and our Facebook site. We have been able to hold some socially-distanced meetings, thanks to the large space we have at the Town's community centre.
Shannon: The Heritage New Perlican Committee has done a lot of work municipally, which sets the stage for deeper engagement. Their Facebook group has proved to be an excellent way for students to introduce themselves and exchange information with residents to discover what is of interest to be researched. The committee members are very active in promoting the town and the heritage within it, and their enthusiasm is contagious. People in the town are excellent to work with, creating a welcoming environment for student learning.
Tell me a little about the work Heritage New Perlican has been doing.
Joan: As our town dates back to the mid-1600s, it's not surprising that we're learning about older graveyards, and our fishing and boatbuilding heritage. We have many seasonal residents here in New Perlican, and many are fascinated by our long history. We hold an annual Heritage Day so residents and visitors alike can learn about what the Heritage Committee does.
Heritage New Perlican has close working relationships with Heritage Newfoundland and Labrador, and that exposure has generated interest from folklorists, archaeologists, historians and others.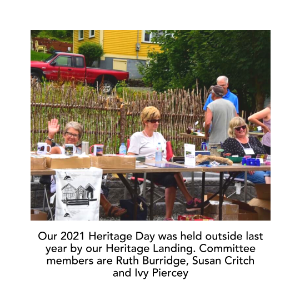 Relationships are essential to community-based experiential learning. Can you tell us about some of the most valuable relationships that have developed?
Joan: Our relationship with Heritage Newfoundland and Labrador is a good example. Dale Jarvis and staff there have assisted us in so many ways, through regional workshops or sessions, or meeting with our Heritage Committee. It was through this relationship we first got involved with Shannon and Memorial students.
Through the folklore lens of Heritage NL, we were also introduced to Dr. Jillian Gould and Dr. Kelly Totten of the Department of Folklore, and we were selected for the 2020 Graduate Field School. Planning for the Field School started in 2019, and we were anticipating a real community-based experience in New Perlican for students and our citizens.
How were these relationships affected by working through the COVID-19 pandemic?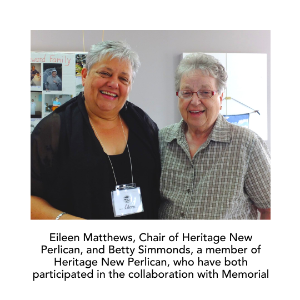 Joan: We, as well as the faculty members, had to do the field school entirely online after planning for the students to live and work for three weeks in New Perlican. We had engaged local residents, town officials, housing and meeting space, etc., but then we know what happened.
The students were working remotely from various parts of the world, so trying to introduce them to our town was a challenge. We don't have a website or a community profile, so we provided them with an orientation about where they could find most information — by joining our Facebook group.
The students all had different research interests, so we asked about ten residents to participate in interviews with them. Some were asked about our local traditions, some about our work history, and others about moving away and coming back home. The results were compiled into a presentation which was streamed at the community centre at the end of the Field School.
Many of these students are still active on our Facebook page, and one of them is doing fieldwork in the region.
Shannon: And, in the middle of the pandemic, I deployed with NATO for six months. It was not part of the original plan to finish the Bloody Point archaeology report and listen to the Folklore students' presentations online from Baghdad!
Can you share some of the experiences students have had through this project, that they wouldn't otherwise be able to access? How does this differ from the traditional classroom experience?
Joan: The difference between a classroom and the real experience is evident. The students got the chance to work, either virtually or in person, in a small town of less than 200, and see how our history is so evident in our historic harbour, through our 18 municipally designated heritage sites, and through our interesting residents. For our Bloody Point Cemetery students, they were able to do their research on-site. For our Folklore graduate students, they had to adapt to a new field school method, which was successful.
Shannon: The expected tempo and nature of work changed due to the pandemic, but good progress was made. Folklore and Archaeology students gained valuable experience working with heritage agencies and professionals, and collaborating with members of the community, on research important to the community.
Folklore students conducted fieldwork and cultural documentation, on-site and virtually, with the support and mentorship of Heritage New Perlican, Heritage NL, and local residents. They documented living heritage traditions in the community, and archived them for public access on Memorial's Digital Archives Initiative.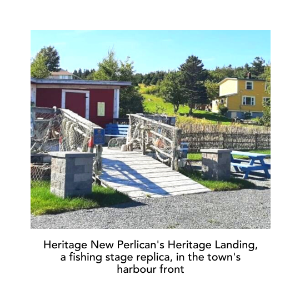 Archaeology MA and PhD students surveyed Bloody Point, and PhD candidate Robyn Lacy has commenced her thesis research into the connection between Bloody Point and other burial grounds in New Perlican.
Tell us about the feedback you've received from community members. What new experiences or knowledge have they gained through their participation?
Joan: We have heard about positive interviews with the Folklore students — residents were able to share about their lives in New Perlican with a student in another part of the world. The Bloody Point project students were working on a cemetery that many residents knew little about. That has generated interest in exploring and preserving these graveyards.
During the summer of 2021, we hired a student through Memorial's Centre for Social Enterprise, who interviewed a wide variety of residents and stakeholders in business and industry, to develop a social enterprise plan. This highlighted many assets that benefit the community, attract tourists, and most importantly bring revenue to the town. Our citizens continue to realize we have so many assets that we need to promote in order to encourage economic development.
Residents have learned a lot about Memorial's work in small communities. I think these projects highlight the University's public engagement mandate and how it can translate into work in a little town like New Perlican.
I'm sure you've learned many valuable lessons over the course of these projects. What advice would you give to someone developing their own experiential learning project?
Shannon: It takes time to connect with each other and understand what's needed. I feel as if the first five years have been the scoping phase of the collaboration between Memorial and Heritage New Perlican. Now we can take what has been learned through the partnership to create even deeper engagement as we go on.
Communication is the most important element of a successful partnership — to communicate expectations, challenges, and opportunities arising from strange situations like COVID. We outlined clear goals at the beginning of the project, and despite having to change the way in which progress was made on some of these goals, more than 35 students gained novel educational experiences that advanced the needs of the community.
Joan: We are fortunate to have an engaged Heritage Committee, a network of volunteers we can count on to work with our students, and most of all, a very supportive municipal council. The Town of New Perlican provides us with office space, administrative support, financial support towards our student costs, and helps us maintain our various municipally designated sites. We also have the support of Heritage NL and have a network of resource people there and at Memorial University. Having these contacts and supports are critical to the success of any experiential learning program.
What does the future hold for experiential learning in New Perlican?
Shannon: When circumstances permit, and following the PhD research currently being conducted in the area, we will have a better sense of how this partnership and the subsequent learning opportunities will continue in New Perlican, and in other communities as well.
Joan: We have considerable experience now, so when the opportunity arises again, we will be able to avail of any opportunities to provide learning experiences for students and for our community's residents.
---
Jennifer McVeigh is a writer and editor with a special interest in knowledge translation and mobilization, based in St. John's.
All photographs are by Karen Smith, a Heritage New Perlican committee member.