Endowment Report
ENDOWMENT REPORT 2021-22
Your decision to create or support an endowed gift to Memorial University is life-changing for the students, faculty and researchers who benefit from your generosity. The incredible impact of their work and scholarship is also your impact. And it will be felt for generations to come. Thank you.
MEMORIAL'S ENDOWMENT
Our Pooled Endowment Fund is invested to create support for Memorial and its students.
At a total market value over $159.0 million at March 31, 2022 Memorial's Pooled Endowment Fund is comprised of more than 900 individual funds. Together, these funds represent the collective and generous contribution of you, our donors.
Managed with sound, proven investment strategies and sustainable spending policies, our endowment is designed to extend maximum benefits to fund recipients while maintaining the security of the funding stream in perpetuity and enabling growth to keep pace with inflation and maintain its 'buying power'.
With your support, we continue to build a healthy, growing Fund that will exist in perpetuity, extending these important financial resources to our university and its students for generations to come. Thank you.
MANAGING MEMORIAL'S ENDOWMENT
The endowed funds at Memorial University are overseen by the Investment Committee (Sub-Committee of the Finance Committee of the Board of Regents of Memorial University) and governed by the Statement of Investment Policy and Objectives (SIPO). Additional details on Memorial's endowed and non-endowed funds can be found in the 2022 Investment Committee Annual Report. To request a full copy of the SIPO or if you have additional questions about investments at Memorial, please contact us at giving@mun.ca.
MARKET VALUE & BOOK VALUE
Market Value: $159,029,195
Market value is the value of the endowment if all investments were sold at fiscal year end, i.e. March 31. (closing book value + unrealized gains/loss). The market value of Memorial's Endowment at March 31, 2022 was $159,029,195.
Book Value: $139,571,264
Book value is the amount donated plus subsequent transactions for the investment.
(donated funds + realized income – funds awarded). The book value of Memorial's Endowment at March 31, 2022 was $139,571,264.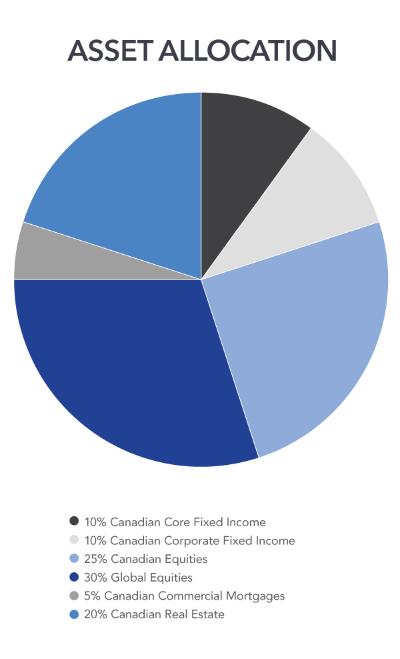 Asset allocation targets for Memorial's Pooled Endowment Fund at March 31, 2022.
SUCCESS STORIES
When you empower our Memorial community, you create incredible opportunities for leadership and discovery – and by extension, build a healthy and sustainable society. Your endowed gifts have a transformational effect on the people, work and places of our university and beyond.

Please note that if you have created and/or are the representative of an endowed fund(s) at Memorial and you currently do not receive a yearly update on your specific endowment(s), please contact us at giving@mun.ca.
Below are links to alternate summary documents that can be printed to accompany your specific fund reports, including those currently being updated for 2021-22.
2019-20 Endowment Report

2018-19 Endowment Report

2017-18 Endowment Report