Three of our own participate in the Harris Centre Coast of Bays Regional Workshop
Nov 6th, 2013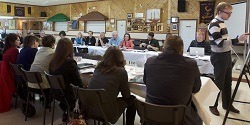 Three of our own participate in the Harris Centre Coast of Bays Regional Workshop
On October 22, two Geography graduate students, Chris Baird and Sharmane Allen, and post-doctoral fellow Easkey Britton travelled to the south coast of the Newfoundland to participate in the Harris Centre's Coast of Bays Regional Workshop.
The day-long workshop offered an excellent opportunity for Chris, Sharmane and Easkey to meet with regional stakeholders to discuss areas of mutual interest and identify possible opportunities for research and outreach. In addition, they were given an opportunity to talk about their involvement in the Too Big to Ignore project, a global partnership for small-scale fisheries research.
By all accounts, the trip was worth the effort! In addition to showcasing a beautiful area of the Province, the workshop highlighted that there some interesting challenges in this region related to commercial fisheries and aquaculture which are understudied. For Sharmane and Chris the experience strengthened their interest in doing research in the region and they are hoping their research will be beneficial to the local communities. Sharmane's research will be focusing on factors influencing the viability of the region's small-scale fisheries, while Chris' research will be looking into the effects of aquaculture escapees on recreational salmon anglers. Easkey, from Ireland and currently doing research on improving small-scale fisheries governance in Europe, realised the power and potential for creating opportunities for communities and researchers to share challenges, lessons and opportunities on both sides of the Atlantic.
Chris, Easkey and Sharmane would like to thank the Harris Centre for opportunity to participate in the workshop and encourages faculty, staff and students to become involved in future events.