Memorial graduate research featured on Nunavut Government website
Dec 20th, 2013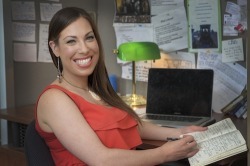 Memorial graduate research featured on Nunavut Government website
Tara's thesis and a summary of her research are featured on the Nunavut Socio-Economic Monitoring Committees website (http://nunavutsemc.com/), where regional committee members and the public in Nunavut can access key information on the impacts of development in the territory.
Tara completed her thesis, "When Mining Comes (Back) to Town: Exploring Historical and Contemporary Mining Encounters in the Kivalliq Region, Nunavut," in August. Her research addresses the social and environmental legacies of historic mining in Rankin Inlet, Nunavut, and the community's relationship with current and projected mineral developments in the region. It is based on dozens of interviews and ethnographic research conducted with community partners over the past two years. Tara recently returned from a trip to Rankin Inlet to discuss results with community leaders and research participants. Results from the study will also be reported in a forthcoming article in the journal Études/Inuit/Studies, co-authored with supervisor Dr. Arn Keeling.
Findings from the thesis are also of strong interest to policy-makers in the territory who are facing a series of proposed major mining projects in the near future. Under the Nunavut Land Claims Agreement, Nunavut's regional Socio-Economic Monitoring Committees help the Nunavut government track and implement major project monitoring programs, which monitor social, economic and cultural change brought by development projects. The Kivalliq SEMC, in the region where Tara conducted her research, is currently focused on changes associated with the Agnico-Eagle Meadowbank Mine near Baker Lake, which employs Inuit from across the region, including Rankin Inlet.
Tara's thesis and summary can be accessed on the Kivalliq SEMC webpage,http://nunavutsemc.com/Kivalliq. After her successful graduation, Tara received a major Social Sciences and Humanities Research Council doctoral award to continue her Arctic community studies at Carleton University in Ottawa.