Memorial Geography well represented at Atlantic Conference
Oct 31st, 2012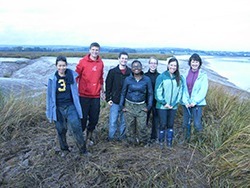 Memorial Geography well represented at Atlantic Conference
The 24th Annual Meeting of the Atlantic Division of the Canadian Association of Geographers (ACAG) was held at St. Mary's University in Halifax from October 19th-21st, and it provided an excellent opportunity for MUN Geographers to showcase their research projects, data collection methods, and results.
With nine participants making the trip, students were represented from all levels of the department, ranging from the undergraduate level up through to doctoral studies.
The conference included a full day of oral and poster presentations, with eight Memorial students delivering oral presentations. This gave the students a chance to have their work analyzed and receive feedback from other academics.
For first time participant and undergraduate student Kyle White, this was an intimidating prospect at first.
"The days leading up to the conference were filled with excitement, but also nervous sensations. However, everyone on the research team, the other MUN participants, and fellow speakers assured me everything would be successful," said White. "My presentation went off better than I had anticipated and the audience provided some insightful questions. After the event, I knew I could not wait until I could experience that atmosphere again!"
The conference also allowed students to see the research of others, and provided an opportunity to network for potential future collaborations.
"There are always new people to meet and new connections to make. As a student, you see professors collaborating with one another, but at conferences like this you can get things started on the student level as well," said graduate student Rudy Riedlsperger. "I was happy to get to know a Master's student from Dalhousie who is doing research on safe water availability in Nunavut from a community health or well-being perspective—something that I am very interested in. We will definitely stay in touch."
While the presentations focused on students, faculty member Karyn Butler was in the spotlight for the Annual General Meeting, where she was presented with the Stuart Semple Award. This award is given in recognition of contributions to enhancing geography education in Atlantic Canada.
The weekend-long conference concluded with a field trip organized by the Geography Department at St. Mary's. Conference delegates enjoyed the beautiful region surrounding Halifax, while learning more about the cultural and physical geography of the area. The day included diverse stops ranging from walking through wetlands, to a wine tasting at one of Annapolis Valley's unique vineyards.
In the photo from left to right: Melinda Agapito, Rudy Riedlsperger, Shane Belbin, Grace Akese, Emma LeClerc, Tara Cater, and Karyn Butler. (Missing: Kyle White and Ryan Gibson.)