Launching "Guardians of Eternity"
Nov 24th, 2015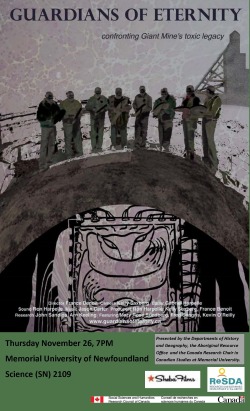 Launching "Guardians of Eternity"
You are invited to join Arn Keeling and John Sandlos for the St. John's launch of "Guardians of Eternity," the collaboratively produced documentary film by France Benoit about the toxic legacies of Yellowknife's Giant Mine. The mine is closed now, but the toxic contamination left behind could be with us forever. The Yellowknives Dene First Nation is on the front line because the mine is on their land. The film tells the story of Giant Mine's toxic legacy from the Dene perspective.
This free screening is scheduled for Thursday, Nov. 26, 7 p.m., SN 2109. It will be followed by a Q & A with Arn and John, and will end by about 8:30. The film's release also coincides with the publication of their edited collection, Mining and Communities in Northern Canada: History, Politics, and Memory. This screening is co-sponsored by the departments of History and Geography, Aboriginal Resource Office, and Canada Research Chair in Aboriginal Studies at Memorial University.
Parking for this event is available in Lot 15B.
For more, see:
https://www.facebook.com/events/681614945272392/
http://www.guardiansofeternity.ca/
http://press.ucalgary.ca/books/9781552388044