Kyle White, Honours Geography Student awarded Economic Development Legacy Award
Oct 9th, 2013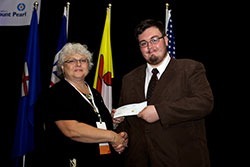 Kyle White, Honours Geography Student awarded Economic Development Legacy Award
Since December 2011, Kyle White has been working with Dr. Kelly Vodden at the Environmental Policy Institute, Grenfell Campus and the Rural Resilience research team. Their research focuses on social and economic development at the local and regional scale. Past projects have included studying land use issues in Central Newfoundland, developing community-based toolkits for development practitioners, and supporting innovation on the Northern Peninsula.
Currently, Kyle is engaged with Canadian Regional Development: A Critical Review of Theory, Practice, and Potentials studying innovation and regional development in the Gander-New Wes Valley and Northern Peninsula regions. In addition to this work Kyle worked with the Harris Center on the Advancing Innovation In Newfoundland and Labrador Project. This project involved hosting workshops in Corner Brook, Plum Point, Labrador Straits, Centerville, and St. John's and developing case studies that showcase business success stories.
This work is being recognized by the Economic Developers Association of Canada (EDAC). Each year the EDAC hosts an annual conference in a Canadian city and grants a scholarship to a student(s) studying in the host city that have made notable contributions to Canada's economic development. The scholarship is intended to publicize the recipient's contributions to local communities and economic development. The scholarship will be presented to Kyle during the conference closing banquet on September 24th.