Geographers get engaged
Feb 6th, 2013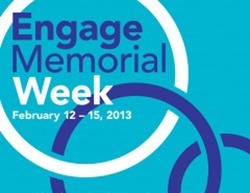 Geographers get engaged
Drs. Trevor Bell and Kelly Vodden will be participating in Engage Memorial, a week of events launching Memorial's new Public Engagement Framework, February 12th - 15th, 2013. They will be giving workshops on Wednesday, February 13, as part of Lessons from the Field, a day-long series of workshops focussed on practices of public engagement.
Trevor is partnering with Bruce Gilbert to discuss "Responding to community-identified needs" in the second session (11:30 a.m. - 12:30 p.m.). They will cover topics including identifying mutually beneficial goals, setting out workplans collaboratively, and managing expectations.
Kelly will be working with Jennifer Browne to discuss "Building public engagement into the curriculum" (1:30-2:30 p.m.). This workshop focusses on identifying ways to integrate public engagement into learning environments, linking public engagement to educational outcomes, and service learning.
If you are interested in attending, you must register for the workshops. Registration is free and participation is open to students, staff, faculty and members of the public.
For more information about these workshops and the rest of the Engage Memorial event, please contact the Office of Engagement.