Dean's Awards - HSS
May 3rd, 2023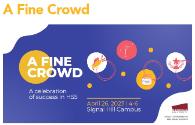 An Annual Celebration of Success in HSS
A Fine Crowd 2023
Winners of the 2022 Dean's Awards in the Faculty of Humanities and Social Sciences, Department of Geography are:
Pamela Murphy – was awarded the Dean's Award for Exceptional Service to the Faculty (Staff).
Keith Storey – was awarded the William J. Kirwin Award for Research by Retired Faculty.
Congratulations on this great accomplishment!