Congratulations to Geography scholarship recipients
Nov 15th, 2013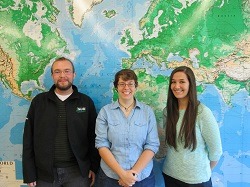 Congratulations to Geography scholarship recipients
Congratulations to the Geography undergraduate students who are receiving scholarships for the 2013-14 school year.
Emily Best and Robert Deering were each awarded The Captain James Cook Memorial Scholarship, Kara Langdon received The Honourable Fabian O'Dea QC., LL.D. Scholarship, and Heather Reid was awarded The Canadian Federation of University Women St. John's Undergraduate Bursary.
Photo (left to right): Robert Deering, Heather Reid, Emily Best.