Climate Change and Energy in Atlantic Canada with David Suzuki
Nov 15th, 2013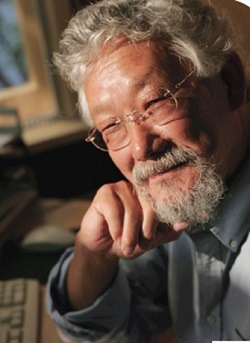 Climate Change and Energy in Atlantic Canada with David Suzuki
The Department of Geography is pleased to announce that we will be closing Geography Awareness Week with "Climate Change and Energy in Atlantic Canada", hosted by renowned environmentalist David Suzuki. The event marks the Newfoundland & Labrador stop on Suzuki's November tour of the Atlantic provinces, during which he will present the provincial premiere of "Climate Change in Atlantic Canada", a compelling documentary on the impacts of climate change in Atlantic communities. Produced by Dr. Ian Mauro of Mount Allison University, the documentary features interviews with several members of the Department, including Drs. Trevor Bell, Norm Catto, Joel Finnis, and Kelly Vodden. The film reveals key aspects of Newfoundland and Labrador's climatic future and specific climate vulnerabilities. These issues will be explored in greater detail following the film, through a panel discussion featuring Dr. Suzuki, Dr. Mauro, and local climate experts.
Co-sponsored by the Department of Geography and the Newfoundland/Labrador Environmental Network (NLEN), the event will take place on Saturday, Nov. 23rd at the Gower Street United Church. Tickets are available online only here; all proceeds from the event will be donated to the NLEN and used to further environmental awareness and conservation within the province.
See the poster for more information.