OHS Research Forum
Oct 7th, 2016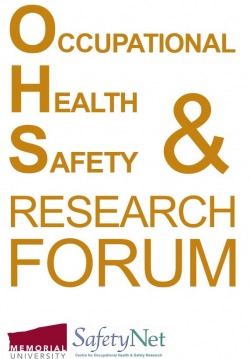 OHS Research Forum
Tuesday, December 6th, 2016
11:00 am - 4:00 pm
Junior Common Room, Gushue Hall
Vew AGENDA
The SafetyNet Centre for Occupational Health and Safety (OHS) Research is organizing a symposium showcasing OHS research (broadly defined) at Memorial University.
We are inviting community stakeholders and faculty, graduate students, postdoctoral fellows, and staff at Memorial University who are doing or planning research on OHS issues to attend and share their research, ideas, and experiences.
Highlight ongoing and proposed research.
Explore ideas for networking and collaboration.
Discuss funding opportunities.
Consider new programs and activities.
Interested in participating? Contact Amanda at 864-7248 or amandab@mun.ca for more information.