Containment Labs
The containment facility is currently certified for AQC3 operations, both in vivo and in vitro.
On the first floor of the CDRF you will find containment labs for the study of aquatic pathogens and invasive species.
Disease Challenge and Necropsy Labs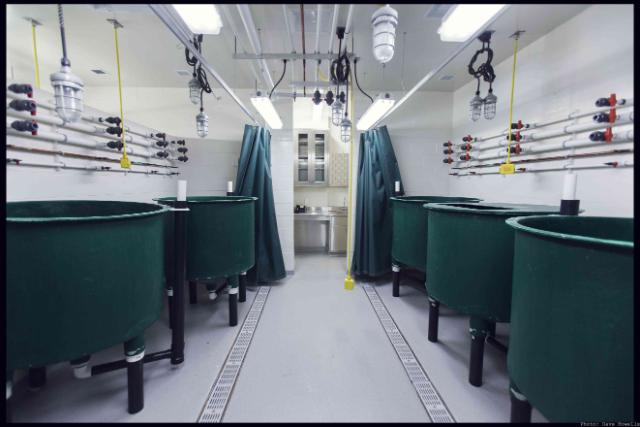 Our facility has two rooms housing holding tanks with adjoining necropsy rooms for disease challenge studies.
Heated and cooled seawater or freshwater available to each of the tanks
Programmable lighting systems
Adjoining necropsy room with stainless steel counters and cabinetry
Pass-through specimen box
We also have another open concept room for disease challenge studies. This is a versatile space capable of housing holding tanks and/or Aquabiolabs Multi-Tank Systems.
Containment Dry Labs

A dry lab is connected to the disease challenge / necropsy rooms and is fully equipped for cell or tissue culture studies. An additional dry lab is available as needed.
2 large class II biosafety cabinets (BSC)
Fume hood
2 temperature controlled (4-40 °C) CO2 incubators for pathogen research or tissue culture
Various centrifuges
Ultralow freezer
Liquid nitrogen dewar
Waste-water Treatment
All water used in the containment zone is treated in our waste water treatment plant.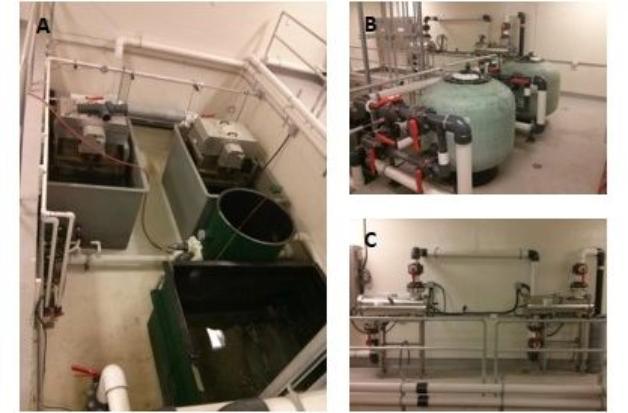 Effluent pit containing drum filters, swirl separator and settling tank (A)
Sand filtration tanks (B)
Final effluent UV treatment (C)
To obtain access to the containment facility and for biosafety training, please contact the facility manager.