Digital Slide Scanning
Zeiss AxioScan.Z1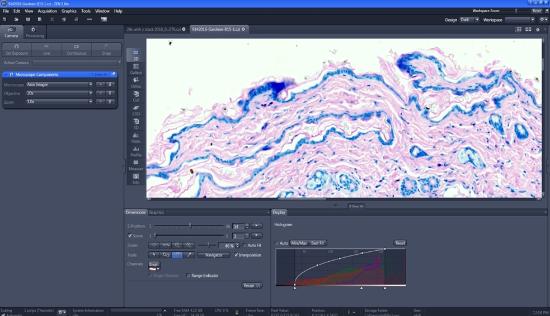 The AxioScan.Z1 digital slide scanner has the ability to conduct whole slide scanning of your specimens into a digital format and is an invaluable tool in virtual microscopy and digital pathology.
Advantages of slide scanning include:
Digital images of whole tissue sections, not just individual fields of view.
Ease of viewing and analysis with free Zeiss ZEN software on your own computer on your own time.
Digital image permits analysis and annotation by computational methods.
Automated imaging of up to 100 slides per run reduces time handling slides.
Easily share images and collaborate using our network server or offline files. Easy access to your digital archive.
Our Zeiss AxioScan.Z1 can scan at magnifications of 5x, 10x, 20x, 40x and 63x (dry). The following fluorescent filters are available (click for spectra):
Submitting slides for scanning
Please complete the scan request form. This form is also available in the histology lab.
Slides may be sent directly to the CDRF through internal mail (attn: CDRF Manager, Department of Ocean Sciences). Slides are also accepted from external clients (please contact us for more information).
We will create a new scan profile for new sample types. In the case of simple sample types an existing profile may be used and the setup fee will be waved. This is done once for each type of sample so please identify the scan profile to use on subsequent deliveries of this type (and to avoid the profile set-up charge).
If no set-up charge is needed because an existing profile may be used, there is a small handling charge. Please send slides in batches when possible.
An individual per slide fee is charged.

Simple slides are those scanned at 20x with no special processing such as Z-stacks or fluorescence.
Advanced slides are those done at higher magnification, have fluorescence, Z-stack or otherwise require a complex scan profile.
CDRF Digital slide scanning fees 2023