Dr. Roger Green Tribute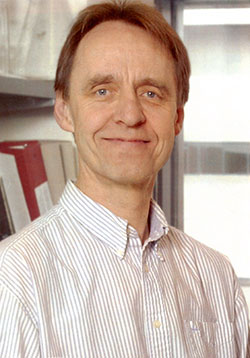 Dr. Roger C. Green died unexpectedly at home on August 9, 2015 at the age of 69. Roger was a long-time educator and researcher at Memorial University, involved in teaching the undergraduate medical school curriculum since 1971. He was one of the four founding members of the Discipline of Genetics, which was created in 1999, and in one way or another, mentored most of the genetics faculty and all our past and current graduate students. Roger ran the discipline's graduate program for 15 years until he retired in September, 2014. In 1999, working with an interdisciplinary team, he created a colorectal cancer database which he oversaw and maintained until he died.

Roger obtained his undergraduate degree in medical biochemistry from Birmingham University in England in 1966. He began his PhD soon after in Birmingham, however, as fate would have it, his supervisor moved to St. John's to work at Memorial, where Roger finished his PhD and remained for the next 45 years. Roger was an excellent teacher and the consummate professional. He considered one of his greatest achievements in life was that he taught every graduating physician from Memorial's Faculty of Medicine.

His superb wit and keen mind were on exhibit during all facets of his life. He could make difficult material interesting and he had a penchant of conveying obscure concepts in a manner that was understandable to all. Roger also had the remarkable ability to see directly to the heart of the matter, regardless if it was during a lecture, in a committee, or examining graduate students. His ability to astutely analyze scientific information was impressive. Students (including myself) found his ability to assimilate data and ask difficult, but fair, questions daunting - but it made us all better scientists too.

Roger was an early adopter of technology, yet still completely grounded in the past. His love of computers and interest in geo-caching was well known. However, in his office he would also have a usable pencil sharpener, stapler and hot plate all circa the 1960s. He was a very admirable mix of the traditional and the modern.

Roger had recently retired and was holding an Honorary Research Professor position. His commitment to our discipline was admirable. He was a great resource for faculty and staff as he was the go-to person for any genetics questions. He had a measured and calm personality that lent itself well to anyone needing professional advice. You knew when you spoke privately to Roger that it would be in complete confidence and you would get a totally unbiased opinion. He was the backbone of the Discipline of Genetics and he will be sorely missed.

Roger is survived by his wife, Gemma Giovannini and their son, Zachary Giovannini-Green; son Jason (Jennifer) and daughter Zoe (Kevin), ON; grandchildren Nathan, Callum, Targan, and Quillan; brother Brian (Patricia), England. Roger also leaves behind a group of exceptional colleagues and friends and extended Newfoundland family.

In Roger's memory, donations can be made to The Dr. Roger C. Green Graduate Scholarship in Human Genetics. (Online giving or toll free: 1-877-700-4081).
- Dr. Michael Woods, Human Genetics and Genomics