MUN Safe App - Update Information
PLEASE NOTE: For users who have downloaded app prior to May 2017, to ensure you continue receiving notifications in the future.
The MUN Safe App has launched at the Grenfell Campus in addition to St. John's campus and Marine Institute. In order to ensure that you will contiue to receive notifications, your MUN safe will need to be updated to the most current version to ensure that all new features and your campus preferences are saved. To update MUN Safe please do the following:
1. If your device does not accept automatic updates, update your app to MUN Safe version 4.18 as indicated in the App Preferences section under "Data Updates" of the MUN Safe App. (Listed as Version 2.3 in the Apple or Google Play Stores).
Go to: About/Preferences -> Data Update -> Look for Version 4.18 on bottom left side of screen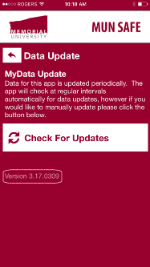 **If you do not have version 4.18 on your phone, you will need to update your MUN Safe app in the app store for your device. **
Apple Device
Select the "App Store" App then select "Updates".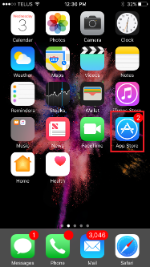 Android Device
Select the "Google Play Store App", select your apps and then update MUN Safe.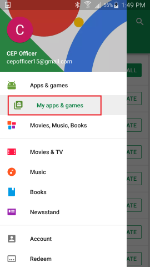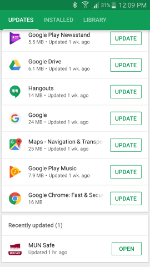 2. Open your MUN Safe app and tap the update bar on the bottom of your screen.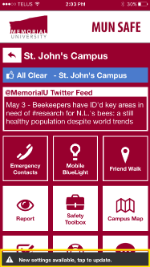 3. Select your campus. Your campus preference will then be saved.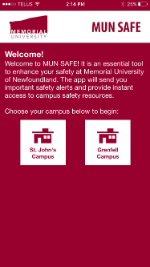 4. Check your notification preferences to ensure that you are getting the notifications you require. Under notification settings, notifications shoud be "enabled" for your preferred campuses.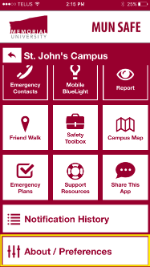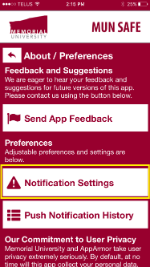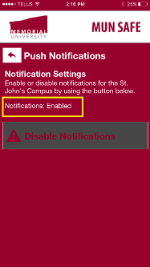 For users who change or travel between campuses, you can alternate between preferred campus and communication channels at any time within the MUN Safe app.
PLEASE NOTE: If users do not complete this update, they will be at risk of not receiving notifications in the future.
If you have questions or need more information, please send feedback via the preferences section of the app or email munsafe@mun.ca.