Conche
The town of Conche is located 26 km from Roddickton along Route 434, on the east coast of Newfoundland's Great Northern Peninsula. This geographically isolated community is an integral part of what is called 'the French Shore' and as such, has a rich history of early French settlement. Starting in the early 1500s, Conche became an important and enduring location for French fishermen who arrived each spring to fish for cod. By the 18th century, English also set up base here to participate in this thriving fishery. While the two sought to attain a share of the resources, inevitable conflicts arose. In 1707, English warships trapped the French fleet, sinking two of their ships in Martinique Bay. These underwater shipwrecks remain there today, and are now a designated Provincial Site of Historic Significance.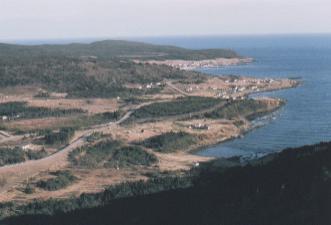 Around the time of this historic sinking, fewer French came to the region, allowing English and Irish settlers freer access. A permanent settlement of these new arrivals was established as they continued to fish for cod and salmon, and began hunting seal. Many of these settlers stayed and made Conche their home, and indeed, direct descendents of these early settlers continue to live in the vicinity.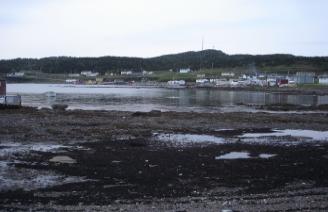 Archeologists, historians and local residents often make new discoveries that add to our understanding of the French Shore's history. The history of Coche is so dynamic in fact, that residents decided to visually interpret their regional story through traditional craft. Now completed, this remarkable embroidery project aims to depict the history of the region from pre-settlement up until present day. The piece itself was designed by Jean-Claude Roy but was created using the skilled labor of several Conche residents. It is now on permanent display in the French Shore Interpretation Center located in the old nursing station in Conche.