Newfiki: A celebration of East-European cultures in Newfoundland
Canada has an open immigration policy designed to attract new immigrants. Many come from the former Socialist block, creating new diaspora communities. These communities gradually grow, forming a significant part of the Canadian population. This project focuses on diaspora groups established by recent immigrants to Canada from the former socialist block. It concentrates on the ways newcomers respond and contribute to their new locations, creating a new sense of belonging and identity. A particular focus is placed on the ways that new immigrants selectively maintain or abandon their European beliefs and practices, while simultaneously absorbing the values and ideas of Canadian society.
As part of this project, the Heritage Foundation of Newfoundland and Labrador will be offering events celebrating the East-European community and culture during multicultural week in March.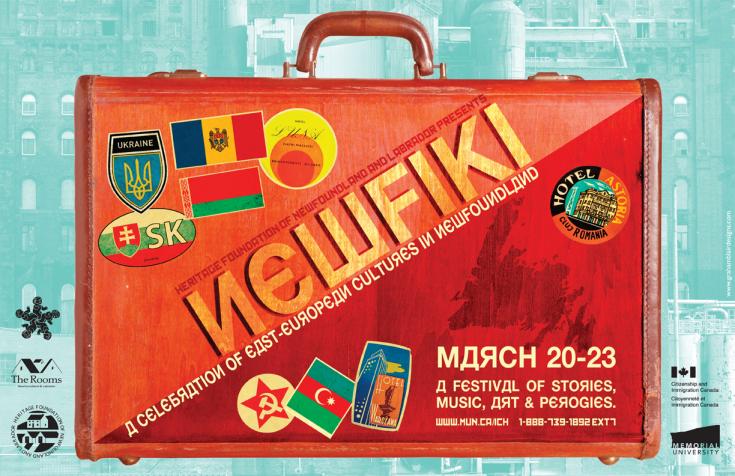 World Storytelling Day
Date: Wednesday, March 20 7:00 pm
Location: The Rooms Theatre

Description:March 20th is World Storytelling Day, a global celebration of the art of oral storytelling. Join folklorist Mariya Lesiv and guests for an evening of stories exploring the experiences of new Canadians as they make the shift from their old homes in Eastern Europe to life in Newfoundland and Labrador. Presented in collaboration with Heritage Foundation of Newfoundland and Labrador.
Newfiki Cultural Concert Night
Date: Friday, March 22, 7:00-11:00 pm
Location: Cochrane Street United Church (Please use the Bannerman Street entrance)
Free Admission
Description: Come and enjoy a night, celebrating the music, story, art, and dance, of East-European culture in Newfoundland and Labrador. Featuring Russian romance songs, Ukrainian folk songs (sopilka), Russian humorous songs (chastushki), Slovak traditional dance, traditional Russian dress, and much more.
Pierogi Workshop
Date: Saturday, March 23 1:00- 5:00 pm
Location: Cochrane Street United Church (Please use the Bannerman Street entrance)
Description: Pierogies are semicircular dumplings of unleavened dough that are first boiled, then baked or fried. They are traditionally stuffed with potato filling, sauerkraut, ground meat, cheese, or fruit. Come and join Mariya Lesiv and learn how to make pierogies for yourself!
Cost: $20
Registration: Registration is required for this event as spaces are limited. To register please email Christina@heritagefoundation.ca or call toll free 1-888-739 1892 ext. 7.