Welcome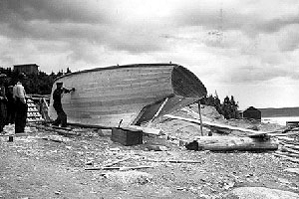 Intangible Cultural Heritage (what we think of in Newfoundland and Labrador as our Living Traditions) is an important new development in the heritage world.
We have long thought of heritage as comprised mainly of tangible things – our buildings, our furniture, our clothing – that have been handed down to us, and that we can preserve in our homes, museums and historic sites. However, many communities and peoples around the world recognize that this is only a part of what makes up their heritage, and that intangible ideas, customs and knowledge are equally important for cultural identity.
These intangible pieces of our heritage relate to local traditions, and are passed on by word of mouth or imitation from generation to generation. This living knowledge adapts and changes, and unlike a building, if it's neglected for a generation, it can never be restored.
International ICH efforts
UNESCO has long been the leader in world heritage, first with historic sites and monuments. Over the past 30 years, UNESCO has recognized the importance of also preserving those things that are spoken and performed. To this end, UNESCO created an international convention dealing with Intangible Cultural Heritage (approved in 2003, brought into force in 2006), with a wide range of policies and programs connected with it.
UNESCO's work recognizes that while the forms that ICH takes vary from culture to culture, there are a number of common types that are found in all communities – including here in Newfoundland and Labrador.
ICH is constantly recreated in our communities, by groups and individuals. Individuals with particular skills are often referred to as tradition-bearers. Our ICH can continue to live and evolve partly through the efforts of organizations, groups and individuals engaged in specific actions involving the safeguarding of these traditions.
With the support of the provincial government, the Heritage Foundation of Newfoundland and Labrador (Heritage NL) is working to enact an Intangible Cultural Heritage strategy.
For more information, please contact:
Dale Jarvis
Adjuct Faculty, Department of Folklore
Executive Director, Heritage NL
1 Springdale Street, 1st Floor
dale@heritagenl.ca
709-739-1892 ext 1
toll free: 1-888-739-1892 ext 1
fax: 709-739-5413
Subscribe to the newsletter at: http://eepurl.com/dwqDgn