Five Stars
Nov 17th, 2021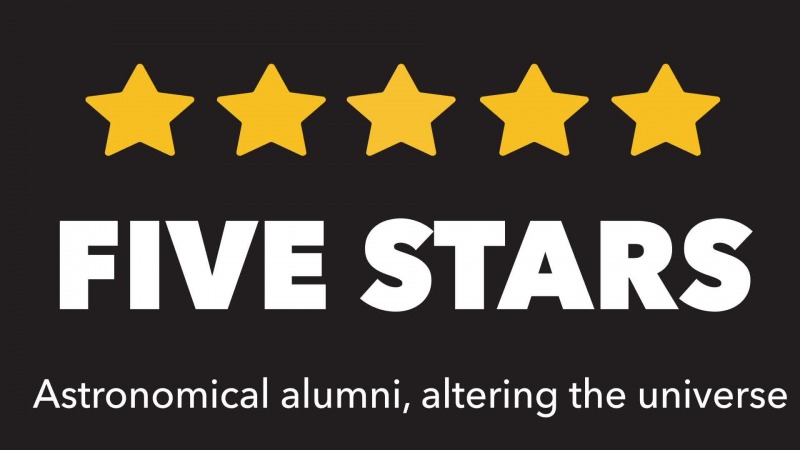 Five Stars
Whether they work in a classroom, in healthcare, on a stage or under the sea – they are Memorial University STARS! Five Stars is a student-produced video series profiling five alumni or groups of alumni who are making astrological achievements.
In this series we profile:
- Jamie Parsons (B.Sc.'97, B.Ed.(Secondary)'98, M.Ed.'05) is a teacher and mentor. With a background in science education, he is keen to inspire his students to change the world for the better. We are so pleased to have collaborated with Kelly Lewis, a student in the Diploma in Stage and Screen Technique program, who filmed and edited this video!
- Breanna Careen (B.Tech.'19) has been making waves since graduating from Marine Institute. Her work with Fugro is protecting the world's natural resources with advanced technology geo-intelligence for ocean mapping that creates high-resolution images of what's beneath the waves. High five to Kat Flynn, a student in the Diploma in Stage and Screen Technique program, who shot and edited this video!
- Drs. Nikitha Kendyla (Ph.D.'19) and Purvikalayan Pallegar (Ph.D.'20) are working together to gut punch Canada's gut health problem. From their research, and with the help of the Memorial Centre for Entrepreneurship and Genesis, the husband-wife team created Nuqlic Biologics – an all-new, revolutionary test to improve the health system. We'd like to thank student Jarod Farrell for his work on this video!
- Dr. Archana Vidyasankar wants to change the world by improving perinatal health for parents and infants – working towards a generation with increased health and wellbeing. As a 2018 graduate of the Faculty of Medicine's Psychiatry Residency Program and co-founder of the Perinatal Mental Health Alliance of Newfoundland and Labrador, which she created after observing the gaps in our health system. Special thanks to Kelly Lewis, who shot and edited this video!
- Mom's Girls have been serving joyously raucous jokes and deft social commentary to stages across the province. With female, queer and non-binary members, they fight to educate others on queer art, eradicating homophobia and transphobia through laughs. Stef Curran (BA'18), Elizabeth Hicks (BA(Hons.)'17, MA'18), Allison Kelly (BFA(Theatre)'12) and Andrea Bulman want to flip the script on the stereotype of females and inclusivity in comedy. Thanks to Kat Flynn for her work on this video!
You can view all videos on our YouTube channel!