Alumni Representatives
The following six individuals were elected by Memorial University alumni out of a total of 45 candidates. These individuals will sit on the Board of Regents from Sept. 1, 2023 - Aug. 31, 2026.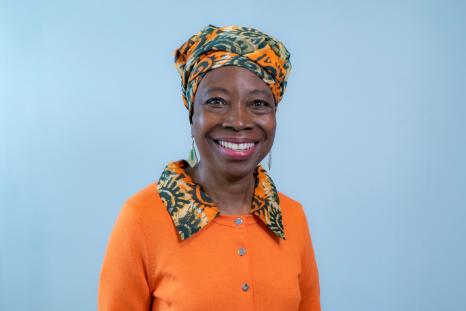 Lloydetta Quaicoe was born in Sierra Leone and moved to Newfoundland and Labrador in 1982. She is the founder and CEO of Sharing Our Cultures, a non-profit organization that engages youth in activities to enhance their sociocultural and employability skills, offering free intercultural learning programs to school children to help them recognize the importance of diversity and inclusion. She is the recipient of the Newfoundland and Labrador Teachers' Association's Patricia Cowan Award for supporting and promoting education, was recognized with RBC's Canadian Women Entrepreneur Award for Social Change (2021), honoured with the Order of Newfoundland and Labrador (2019), the Human Rights Champion Certificate (2017) and the Queen Elizabeth II Diamond Jubilee Medal (2013). She is Chair of the OMNI East Advisory Council for Ontario and Atlantic Provinces and served on the Minister's Roundtable for Immigration, and the Multicultural Education Advisory Committee.
Anik Rahman is a licensed professional engineer and PMI-certified project manager with expertise in renewable energy development, commercialization and electricity market operation who currently serves as an Advisor with the Independent Electricity System Operator, a not-for-profit organization that operates Ontario's electricity grid 24/7, and oversees the wholesale electricity markets. Anik brings on experience from the Energy industry in successfully collaborating with public and private organizations, regulators, entrepreneurs, and innovators around the world. Consequently, he was appointed to the World Energy Council's prestigious Future Energy Leader program as a Canadian envoy. Anik is a Champion of energy transition, climate tech and energy equity. A lifelong volunteer and community worker, Anik was an active member of many student-run organizations during his time as a student at Memorial, including two terms as an elected director for the Students' Union. He also has a long history of working with alumni associations through his role as a founding member of the Canadian Alumni Association of Bangladesh. Anik is committed to serve the broader Memorial University community, with a goal to assist the institution to positively contribute to the social, cultural, scientific, and economic advancements of Newfoundland and Labrador.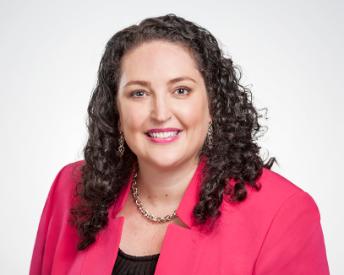 Andrea Stack is an investment advisor and portfolio manager at CIBC Wood Gundy, helping her clients navigate the complexities of managing wealth, working with them to provide financial, investment and estate plans. She is a fellow of the Canadian Securities Institute (FCSI), a Chartered Life Underwriter (CLU) and a Certified Financial Planner (CFP). Volunteering and community service are integral parts of her life. She is an active member of the Rotary Club of St. John's Northwest, serving as club president in 2010 – 11. She is a recipient of a Paul Harris Fellow given by Rotary International. She has served on various committees including Hope Air, Professional Engineers and Geoscientists of NL, St. Patrick's Mercy Home and the Dr. H. Bliss Murphy Cancer Care Foundation. In 2018, she was chair of the St. John's Board of Trade. This is her second term serving on Memorial's Board of Regents.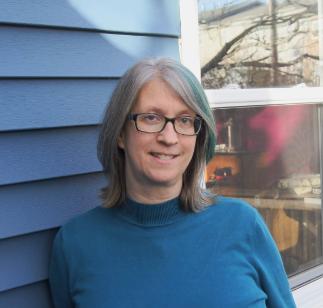 Trudy Morgan-Cole is a writer and educator. After 27 years of teaching high school and adult education English and social studies, she currently works as intake coordinator at The Murphy Centre, helping adult learners navigate paths to completing their education. Her career as an educator has focused on helping students overcome barriers to success and find their own voices. An author of over 20 books, her acclaimed historical novels focus on Newfoundland history, with a particular interest in uncovering and recreating women's stories. Her latest work, the Cupids Trilogy, deals with the founding of the first English colony in Newfoundland, attempting to reimagine the stories of women colonists and critically examine their role in colonialism. She cares deeply about education, the importance of the arts in our community and the need to uplift and centre marginalized voices, all concerns which inform her interest in the future of Memorial University and her desire to contribute by serving on the Board of Regents.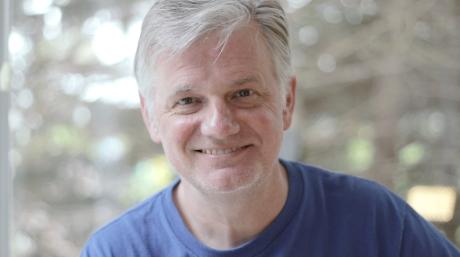 Andrew Mercer began teaching in Newfoundland and Labrador schools in 1994. For the last 18 years his teaching has been entirely online through the Centre for Distance Learning and Innovation. His proven track record in the creation and dissemination of content via social media has produced a YouTube channel with over six million views, and social media followers tipping 25,000. His innovative work has been profiled in Canadian Music Educator, Popular Science, The Wall Street Journal, The Globe and Mail, CNN and Nippon TV. He has shared his work at national and international conferences and symposia including the ISME Conference, TEDx, MTNA National Conference, National Association of Music Merchants (NAMM) and MENC: National Association of Music Educators. He has been a member of several Boards of Directors including the Canadian Music Educators' Association and the Coalition for Music Education in Canada. He is currently a director with Debut Atlantic and a member of the Newfoundland and Labrador Teachers' Association (NLTA) and the Newfoundland and Labrador Music Educator's Association (NLMEA).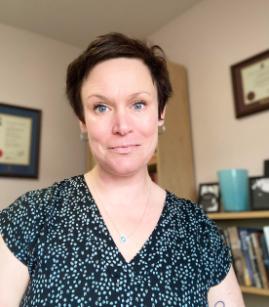 Leigh Borden is a devoted Memorial alumna. As a student, she was involved in the Memorial English Students' Society (MESS) and MUNDrama. She was president of the Memorial University of Newfoundland Students' Union (MUNSU) in 1999 – '00. After graduation, she was awarded the Birks Medal for student and the George M. Story Convocation Medal in Arts. While completing graduate studies at the University of Toronto, she served as an alumni representative on the Board of Regents from 2002 – '04. For the last 15 years, she has worked as a teacher librarian at Holy Trinity Elementary School in Torbay, Newfoundland and Labrador. She has worked as a lecturer in Memorial's Faculty of Education, and mentors early career teachers. She is nationally recognized as an advocate for teacher librarians and school libraries and was honoured by Canadian School Libraries with the Angela Thacker Memorial Award (2022) for excellence in teacher-librarianship and advocacy for school libraries. She is actively involved in the NLTA's leadership and serves as president of Teacher Librarians of Newfoundland and Labrador. She looks forward to continuing her advocacy on the Board of Regents.
Alumni-elected representatives were selected by 4021 voting alumni from a slate of 45 candidates. A combined total of 12,924 votes were cast in the 2023 election. Full voting results can be found below.
| Name | Degree | Votes |
| --- | --- | --- |
| Lloydetta Quaicoe | BA(Hons.)'94, MA'96, LLD'23 | 880 |
| Anik Rahman | B.Eng.'17 | 650 |
| Trudy Morgan-Cole | MA'93, M.Ed.'05 | 646 |
| Andrea Stack | B.Comm.(Co-op.)'96, MBA'01 | 625 |
| Andrew Mercer | B.Mus.'94, B.Mus.Ed.'94, M.Ed.'07 | 498 |
| Leigh Borden | BA(Hons.)'00 | 483 |
| Mary Feltham | B.Sc.'19, B.Sc.(Nursing)'23 | 472 |
| Ann Blackmore | BA'01, B.Comm.(Hons.)(Co-op.)'01, MA'03 | 443 |
| Travis Perry | BA'17 | 396 |
| Marilyn Thompson | BN'81 | 371 |
| Keith Wellon | B.Eng.'76, M.Eng.'79 | 365 |
| Valerie Taylor | B.Med.Sci.'97, MD'99 | 357 |
| Barbara Sheaves | B.Comm.(Co-op.)'94, MBA'98 | 348 |
| Allison Noseworthy | B.Sc.'03, Cert.Crim.'04 | 323 |
| David Winsor | B.Eng.'09, MBA'14 | 322 |
| David Dove | B.Ed.(Elementary)'91, M.Ed.'00 | 293 |
| Joe Dunford | B.Sc.'98, B.Eng.'03, M.Eng.'11 | 283 |
| Ann Marie Hodder | B.Comm.(Co-op.)'03 | 277 |
| Jennifer Tipple | B.Comm.(Hons.)(Co-op.)'04 | 273 |
| Scott Andrews | BA'92 | 257 |
| Kyle Vardy | BBA'07, MER'12 | 249 |
| Dean Oliver | BA(Hons.)'87 | 247 |
| Jacqueline Cook | M.Ed.'85 | 233 |
| Amarnath Mukhopadhyay | B.Sc.'15 | 231 |
| Evan Foote | B.Comm.(Co-op.)'17, MBA'21 | 214 |
| Courtney Jones | B.Sc.'19 | 205 |
| Juanita Ford | BA'92 | 204 |
| Aminul Haque | M.Phil.'22 | 202 |
| George Yates | B.Comm.(Co-op.)'87 | 200 |
| James Greey | B.Eng.'15, MBA'17 | 198 |
| Matthew LeRiche | BA(Hons.)'03 | 186 |
| Gregory Knott | BA'04 | 183 |
| David Guy | BA'84, MBA'86 | 180 |
| Theodore Bonnah | BA(Hons.)'96, B.Ed.(Intermediate/Secondary)'05, MA'06 | 172 |
| Frank Durnford | BA(Hons.)'03 | 171 |
| Jiak Chin Koh | B.Sc.(Hons.)'96 | 157 |
| Matthew Mason | B.Comm.(Co-op.)'02, M.Tech.Mgt.'18 | 150 |
| Lisa McCarthy | B.Comm.(Hons.)(Co-op.)'06 | 138 |
| Chad Perrin | MSW'19 | 137 |
| Stephen Fagan | BA'98, BA(Hons.)'99 | 135 |
| Kirk Quilty | BA'15, BSW'18 | 131 |
| Jeffrey Blackwood | BA'09 | 130 |
| Janis Noseworthy | BA'92, B.Sc.(Hons.)'94 | 122 |
| Megan Murphy | BA'10 | 104 |
| Anthony Carew | BA'17 | 69 |