J.D. Eaton Award recipient - Peg Hunter, B.Comm.(Hons.)(Co-op.)'82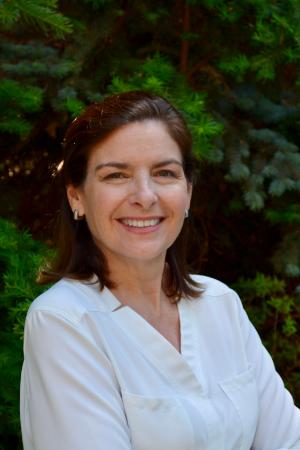 "Time, treasure, talent." – this is how Peg Hunter, this year's recipient of the J.D. Eaton Award for outstanding contributions to Memorial, was described by her nominator.
Ms. Hunter has donned many hats for Memorial over the years, including volunteer, mentor, advocate, donor and board member. Her commitment and support of Memorial's mission has been unwavering.
She began her career in brand management with General Foods (Kraft) in 1983 and joined the retail sector in 1992, holding senior executive positions with such iconic brands as Canadian Tire and The Home Depot. As an officer of The Home Depot, in the capacity of vice-president of marketing and general manager of homedepot.ca, Peg lead the digital transformation of the Canadian organization to become one of the country's leading omni-channel marketers and retailers.
During her time there, she was also founding director and Chair of the Home Depot Canada Foundation – dedicated to ending youth homelessness.
The Canadian Marketing Association named Peg an honorary life member in 2014, in recognition of her contributions to the broader marketing community. That same year she "recalibrated" ("retirement" is not in her vocabulary) and balances her work time amongst various corporate and not-for-profit boards.
Working with Memorial's Office of Alumni Engagement, she was fundamental in establishing the alumni volunteer board in the Greater Toronto Area over a decade ago. She has been an ever-present strategic eye ever since, often taking personal time to meet with and mentor many young professionals. She also served as a fundraising volunteer in Toronto from 2011-12 during the Dare To campaign.
Ms. Hunter's commitment to Memorial's Faculty of Business Administration has been steadfast since graduation, as a guest lecturer, Business Day speaker, student mentor and member of the advisory board for five years. She earned their 2012 Alumni Honor Award.
More recently, she has played an integral role in the advancement of Genesis since joining their Board of Directors in 2018, serving as Chair of the Human Resources and Governance Committee.
Philanthropy is a selfless and generous aspect of Ms. Hunter's service to Memorial. She established the Alice Buckingham Leadership Award in 2012, in honour of her mother. The award has supported nine female business students to date. She has been vocal about the need to cultivate more female leaders at all levels of all types of institutions.
For her generosity and selflessness, her commitment and enthusiasm, her dedication and loyalty – there are few individuals more deserving of the J.D. Eaton Award than Peg Hunter.