Horizon Award - Jason-Louis Carmichael, BRM'12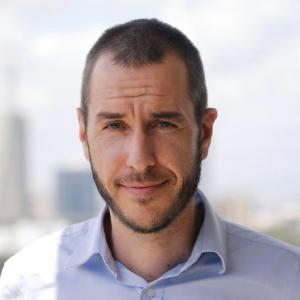 Jason-Louis Carmichael's curiosity, fueled by an incessant desire to learn has brought him from Newfoundland to Sierra Leone to Kenya to Guinea, Ethiopia, the Democratic Republic of Congo and beyond.
It all started during his days as a student at Memorial's Grenfell Campus. His keen interest in solving complex global challenges has afforded him the opportunity to work with talented people across all sectors in some of the most some of the most challenging and rewarding African countries.
His love for Africa began in Sierra Leone through a joint Global Affairs Canada program focusing on gender equity. When Cholera took hold in 2012, he quickly shifted gears towards public health, completing a master's program at the University of British Columbia.
Following graduation, he coordinated the scaling of a program funded by Grand Challenges Canada in partnership with Amref Health Africa, Weltel International Health Society and the Government of Kenya. The project used mobile phones to improve care for HIV patients in Kenya. Time spent in Northern Kenya exposed him to several accessibility challenges that sparked his interest in developing an alternate way of delivering healthcare services to populations, one that focuses on harnessing technology to reorganize health workforces and create timely, affordable services.
From 2015 to 2019, he worked as a planning officer and program manager for the World Health Organization (WHO) in Guinea, Ethiopia and the Democratic Republic of Congo, establishing program management and planning capacity in over 20 African countries. During his time with the WHO's emergencies team, his responsibilities included post-Ebola recovery planning (Guinea), emergency response planning related to a Cholera outbreak, risk-based human resources planning and recovery planning (Ethiopia) and aligning WHO strategic and operational results with United Nations Development Assistance goals. In all of these roles, he worked with government, private, entrepreneurial and international agencies to ensure the availability of equitable access to health care for all.
Most recently, Mr. Carmichael has embraced his entrepreneurial side, setting his vision of a new health service delivery model in action. He is CEO and co-founder of TIBUHealth, a company that provides access to a full suite of health care services to residents of Nairobi. The company harnesses technology and their patent-pending medical kits to provide services ranging from routine check-ups, prenatal care, vaccinations, specimen collections and COVID-19 testing – all at a time and location that is convenient for the patient. Within months of launching this new service delivery model, the company raised significant financing from global venture capital firms to expand the company in Kenya and beyond.
Mr. Carmichael's dedication to solving complex global problems and his willingness to take risks associated with advancing new and unproven models demonstrates his commitment to innovation, partnership and contributing to a more equitable future.