Alumnus of the Year - Dr. Liqin Chen, PhD'93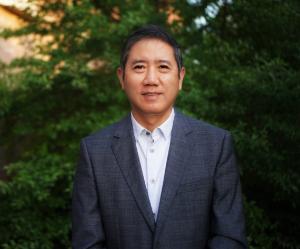 Dr. Liqin Chen arrived in Canada from Anhui, China in 1990 with little more than a suitcase. He enrolled at Memorial University to complete his PhD in Chemistry, under the supervision of Dr. Laurence Thompson, and produced many new compounds, with novel new structures and properties, resulting in 11 research papers in top chemistry journals. Dr. Chen was awarded the title of fellow of the School of Graduate Studies at graduation, in honour of his outstanding achievements.
In 1993 he accepted a postdoctoral position at the University of Windsor and then accepted a position at Xerox Corporation as a research scientist. When funding concluded for the position, he moved on PDI Research Laboratories as a senior research scientist and manager, from 1996 – 2006, at which time he returned to China as a chemistry professor at both Nanjing University of Aeronautics and Astronautics and Nanjing Tech University.
His scientific brilliance and sharp insight saw that an underserved, niche market in the pharmaceutical industry was left untapped.
He took a leap of faith and in 2007 with only four other employees, he established TLC Pharmaceutical Standards (TLC) – now a multi-million-dollar international pharmaceutical company that specializes in the custom synthesis of complex organic compounds for use as reference standards by bio-medical and pharmaceutical industries around the world. Today, TLC is a world leader in its field, employing 250 people with customers in 75 countries.
Dr. Chen's philanthropical gust is nothing short of inspirational. He has given over $1 million dollars to Memorial University's Department of Chemistry. He and his wife also donated $1.6 million to the Toronto Sick Kids Hospital, to build the Chen Family Neurosurgery Suite. His company donated $100,000 of PPE to frontline workers during the pandemic, as well as $5 million to his alma mater in China.
In 2020, he told The Gazette, "Memorial University and the people there helped me when I needed it the most. It was the place that changed my life and my family's life. My parents always reminded us to be grateful – like an old Chinese saying: Return a favour many times more."