Burton's Pond Apartments
Burton's Pond apartments consist of five apartment-style residences surrounding one side of Burton's Pond. Each of the five 'Courts' is home to approximately 32 apartments and provides a high level of independence for individual residents.
Burton's Pond Apartments are just a short walk from academic buildings and the campus tunnel and skywalk system. Accessible apartments are available in Cartier Court. Meal plans are not mandatory but are available.
Residence Fees
$2,408 CAD, per semester
Room Details


Each apartment is limited to two individual students. This will allow each student a private office/study space, and a private bedroom. As well as a shared kitchen, living room, and washroom. All apartments are fully furnished.
Single Room: A private bedroom and private office/study space within a four-room apartment. Each single room contains a twin-sized bed, storage drawers, a desk, and closet. Washroom, kitchen, and living room are shared among roommates in the apartment.
The amenities in Burton's Pond Apartments buildings include:
High-speed internet and WiFi
Fully furnished rooms
Semi-private washrooms
Laundry facilities
24/7 security
Swipe card access to the building
Living room space in each apartment
Shared kitchen in each apartment
Each bedroom is provided with the following:
A single bed measuring 39" x 80"
Storage drawers
Shelving and desk
Closet
Every living area is equipped with the following:
Fridge
Stove
Cutting board
2, two-seat couches
2 lamps
Coffee table
2 end tables
Kitchen table
4 kitchen chairs
Floorplans
The floorplan below is a typical layout of the apartments within Burton's Pond.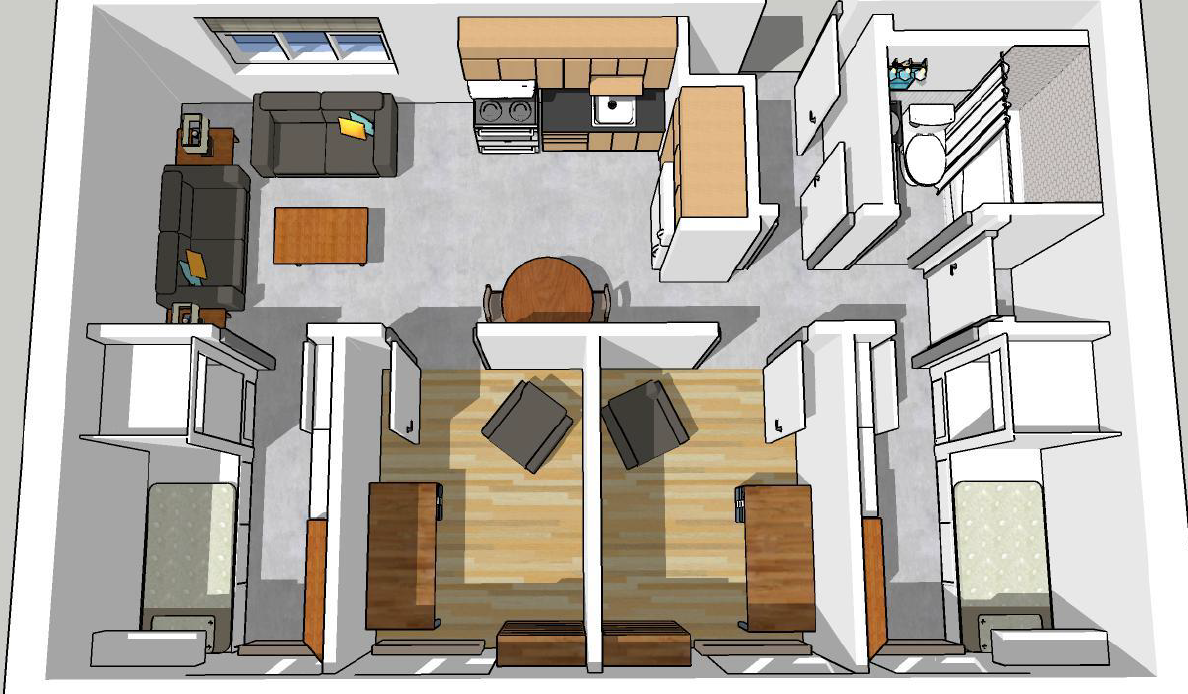 What should I bring?
The following is a list of suggested items to bring with you when you live in Burton's Pond.
Toiletries
Towels
Bedding
Computer
Clothes hangers
Cleaning supplies - rubber gloves, cleaning rags, all-purpose cleaner, laundry detergent, dryer sheets, paper towel, broom, mop and bucket, toilet brush, toilet plunger, oven cleaner, dish soap, dish scrubber
Kitchen supplies - cups, dishes, storage containers, toaster, blender, microwave, coffee maker, utensils, baking sheets, pots, pans, bowls, kitchen knives, measuring cups, oven mitts, tin foil, plastic wrap, garbage bags, hand and dish towels, sponges, can opener, scissors, cookbook(s), tablecloth, dish rack, placemats, garbage can
Room decor
Laundry basket
Iron and ironing board
Fan
Power bar with a surge protector
Flashlight and batteries
School supplies
Warm clothes
Water-resistant jacket
It is recommended to coordinate with your roommates before purchasing larger items in order to avoid duplication.