Black Duck Cove - Hooked Rugs
Blanche Dredge is a prolific craftsperson who lives in Black Duck Cove. Although originally from Southern Labrador, Blanche has been living along the Straits since she was first married. As a pastime, Blanche makes serverals different kinds of traditional crafts. Not only does she knit, crochet, and sew, but she also makes hooked rugs. Her designs are usually very original, inspired by Newfoundland culture, and the animals and landscapes of the region.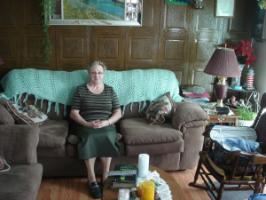 Blanche shares memories of her upbringing in Labrador, including how homes where built and decorated, and how members of the community would visit and help one another.
Back to the Straits ProfileCheck out the Rug Hooking Collection on the DAI