Arif Shaikh, ETP '17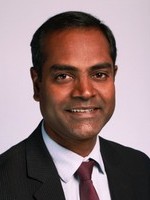 Country of Origin: India
ETP Year: 2016/2017


Education: Bachelor's Degree (Mechanical/Production Engineering), Master's Degree (Industrial Engineering), Doctorate (Management Science), Postdoctoral Research Fellow (Operations Management), Postdoctoral Research Fellow (Product Development and Commercialization)
Why did you participate in ETP?
To learn more about Entrepreneurship. I had a business idea which was to setup a consultancy that provides a variety of services including supply chain management, ERP, IT solutions, etc.
What is the most valuable lesson you learned through ETP?
Discuss your idea with as many people as possible and try to connect with right sources. Be prepared to motivate yourself when things are difficult which is not unusual for Entrepreneurs.
What is the most valuable skill you developed through ETP?
Evaluating one's business idea through customer discovery. Unless you talk about your idea, you will never get feedback and without feedback there is no guarantee that your idea has value. This is the prime skill an entrepreneur must acquire and will help in knowing customer requirements and therefore in product design.
What is the most valuable connection you made through ETP?
I made several connections through ETP which include researchers in Entrepreneurship like Carlos Bazan, Angelo at Genesis Centre, several entrepreneurs from St John's, professionals in finance, accounting, and our coordinator of ETP program Libby Carew, who has been a great advisor and connects me to right sources when needed.
What is your #1 tip to students considering entrepreneurship?
Getting passionate about business idea is a great starting point, but it's a journey that needs lot of commitment. If you are determined to fight it out even at demanding situations you will be successful.
What are you up to now? Tell us about your business!
Me, Ashley and Monjur met at ETP and worked together on an industry problem as part of the ETP program. We are now co-founders of Creatros. Creatros is working on a cloud-based AI app (Creatros Suit) for project managers in medium and large-scale service-oriented software industries that can aid them to effectively match developer's skills to tasks in real time.
From our interviews with project managers, we found that they often face difficulty in assigning tasks to developers. It is not unusual that tasks are assigned to developers outside their core expertise or recent experience, and may even cause project delays, which in turn lead to cost overruns. The job of project managers would be easy if they had a tool that monitors, and tracks developers' skill set in real time and recommend the right person for their next task.
Our cloud based Artificial Intelligent web app continuously crawls through the project management software (such as JIRA), tracks developers assignments over time and based on factual information recommends the project manager for best developer-task fit for the next project. Creatros can also be used to identify skills gap and recommend training requirements or job descriptions for new recruitment. We are currently designing our MVP and further validating our idea based on the feedback from project managers.