Better Breathing Choir
Oct 6th, 2016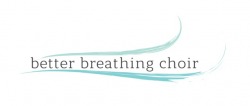 Better Breathing Choir
A researcher in the School of Music at Memorial University of Newfoundland has assembled a team to explore the benefits of choral singing for individuals living with Chronic Obstructive Pulmonary Disease (COPD). The team, led by Dr. Jane Gosine, includes a medical student, Kalen Thomson, and two members of the Faculty of Medicine, Dr. Jamie Farrell and Dr. Susan Avery. Dr. Gosine, a musicologist whose research focuses on 17th-century French music and the connections between music and health, was awarded a 2015 Research Grant from the Bruneau Centre for Excellence in Choral Music to lead this pilot study, which examines whether singing in a choir for people with breathing difficulties can improve the quality of life for individuals living with COPD. The investigators focus on both the potential physiological benefits in improved breathing and health-related quality of life through singing together.
"The initial phase of the project involved extensive literature reviews on subjects related to the project – musical aspects related to singing as well as medical issues related to breathing (particularly diaphragmatic and pursed lip breathing) and wellbeing," explains Dr. Gosine. "It also involved consultations with local choir directors, singers, music therapists, and researchers involved in similar projects in the UK, as well as the support of members of the Pulmonary Rehabilitation Programme at Eastern Health, in particular Susan Haskell (respiratory therapist) and Ray Down (physiotherapist), who also gave presentations to choir participants on issues related to breathing conditions, such as correct use of inhalers, the role of exercise for wellbeing, and the air quality index."
Participants for the study were recruited through advertising in the media, churches, choirs, physicians' offices, pulmonary rehabilitation and extended care facilities, and by word of mouth through the St. John's Better Breathing Choir. As Dr. Gosine explains, there were many aspects of recruitment that the collaborators had to take into account for this particular project. Given that participants in the choir have specific medical conditions, the start of choir sessions was delayed until May in order to avoid flu season and colder weather.
The pilot study began in May 2016 when participants with COPD had spirometry testing and completed a health related quality of life questionnaire. Weekly singing sessions, which take place at The Lantern, are led by Dr. Gosine and Kalen Thomson with the support of current School of Music student Charlene Manning and recent graduates Timothy Brennan and Jessa Vokey. "Each session is designed to allow participants to work at focusing on better breath control," describes Dr. Gosine. "We begin with carefully designed relaxation and breathing exercises; some physical warm-ups and vocal warm-ups; and songs chosen to balance the musical preferences of our participants with songs that are used to work on improving breath control." Each of the sessions also includes social time, which serves as an opportunity for people living with breathing difficulties to share their experiences with one another, as well as their solutions to common problems, and to socialize in a relaxed environment.
Kalen Thomson, who is currently a medical student, is also a graduate of the School of Music at MUN. "One of the great things about the choir for me is that I have found a way to combine my interests in music and medicine. There is a real opportunity to explore the possibilities of music as a therapeutic intervention, as singing incorporates elements of a lot of the exercises individuals are already doing, but in a way that is fun and relaxing."
For choir member David Kelly, participation in the choir has enabled him to reconnect with choral singing–a lifelong passion–after years' of struggle with a lung condition and chronic cough. "I went to the first session with no expectations. I was made to feel so welcome by Jane, Kalen and the other leaders, and to be among others who understand what a breathing problem can take away from you. In that respect, there is a great psychological benefit in that we (the members) are among people who understand our limitations and don't look down upon us because we had to cough or breathe as and when we need. The social aspect is very important and the cup of tea and chat is great."
Kelly also describes the physical benefits of participating in the choir. "From a physical aspect, the training has been amazing. The breathing exercises have helped me and through the use of music and make it easy for us to challenge ourselves to 'sing that phrase in one breath.' It is helping us to be aware of filling our lungs and controlling our breath. The relaxation exercises are so important. It helps me, and I expect others, to focus on ourselves and forget the trials and tribulations of the day behind us. I jokingly refer to it as the only choir where you can breathe and cough as you like."
The research team has given public presentations for World COPD Day, a presentation at the NewFound Music Symposium in the School of Music, and a presentation for medical students interested in family practice.
For anyone interested in joining the choir, please consult the choir webpage for more information, https://betterbreathingchoir.wordpress.com.