Arrival and settlement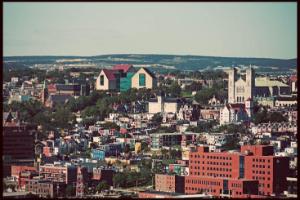 PDF-H's are paid according to their applicable outside funding source.

PDF-E's are paid on a biweekly basis (every second Thursday) by the Department of Human Resources. PDF-E's are required to apply to have their pay deposited directly into their Canadian bank accounts by completing and submitting an

Application for Direct Deposit of Payroll/Pension

.

Guidelines for the reimbursement of relocation costs for PDF-E's can be found

here

.

Banking: All major Canadian banks have offices in St. John's. To set up a bank account, please visit any of Canada's major banks (

Scotiabank

,

TD Canada Trust

,

BMO Bank of Montreal

,

Canadian Imperial Bank of Commerce

,

RBC Royal Bank

,

Newfoundland and Labrador Credit Union

,

Eastern Edge Credit Union

). Individual banks can advise you of documentation needed to open a new account, but typically you will require two pieces of identification and your Letter of Appointment.

Social Insurance Number: It is necessary for residents of Canada, whether Temporary Foreign Workers, Permanent Residents, or Canadian citizens, to have a Social Insurance Number (SIN). This is needed to work legally in Canada. Apply for your SIN card as soon as possible after you arrive. For information on the documents necessary to obtain a Social Insurance Number please consult the

Service Canada website

. You may apply at this address or in person at the following Service Canada office: Service Canada Centre, 223 Churchill Avenue, Pleasantville, St. John's, NL, A1A 1N3. Note that Temporary Foreign Workers require a work permit in order to apply for a SIN.

Income taxes: Postdoctoral Fellows earn taxable income. The University issues to PDF-Es income tax information slips (T4 or T4A) for income earned the previous calendar year.

Postdocs may take the Canada Revenue Agency's online course,

Learning about Taxes

, to better understand Canada's tax system and how to file a Canadian tax return.
Family doctors: For an up-to-date list of doctors taking on new patients in the St. John's area, please call 729-4984.

Health Care and Medical Care Plan: As a resident of Newfoundland and Labrador, you may qualify for the Newfoundland and Labrador Medicare Plan (MCP). The MCP is a health insurance plan that covers all basic care for you and family members residing in Newfoundland and Labrador. Eligibility is based on your status in the province. Normally, Temporary Foreign Workers (who have an offer of employment and work permit valid for 12 months or longer), Permanent Residents, and Canadian citizens are eligible for coverage. You must register with MCP as soon as possible after you arrive. Applications can be found in doctors' offices and hospitals or may be downloaded at the

MCP website

. Please note as well the documents required for Canadians arriving from other provinces, as well as those required by persons arriving from outside of Canada. For general information on MCP, information on beneficiaries, eligibility, and access to forms consult the

Medical Care Plan website

. Postdoctoral Fellows should also look at the Group Health and Life Benefits Plan under the section Personal and Family Needs.

Group Benefits Plan: For PDF-E's meeting eligibility requirements, participation in the University's group benefits plan is a condition of employment. New employees, including those on contract who are eligible for benefits, should contact the Benefits and Pensions Office at 864-7406 or pensions@mun.ca to set up an appointment to discuss their Benefit Plan. PDF-Hs are not eligible for coverage under the Group Benefits Plan.

International Postdoctoral Fellows health coverage: If you are an international Postdoctoral Fellow and do not qualify for MCP or the Groups Benefits Plan through Memorial University, you may opt into the Foreign Health Insurance Plan for international students managed by the International Student Advising (ISA) Office. Consult the

ISA website

for information about this coverage and how to opt in.

Employee Assistance Program: The

Employee Assistance Program (EAP)

is offered to Memorial employees (including PDF-E's but excluding PDF-Hs), retirees, and their immediate family members at no cost, 24 hours/day, seven days/week. A variety of services is available in person, by telephone, by email, or online. These services include: personal well being, marriage and family relationships, legal assistance, family assistance, child and elder care resources, workplace challenges, addictions, career counselling, nutrition, and health care advice.
Obtaining a Newfoundland and Labrador driver's licence: If you are already in possession of a driver's license from another jurisdiction within Canada, or from the United States, Germany, the United Kingdom, Switzerland, Austria, or the Republic of Korea, you may simply exchange your licence, within three months of arriving, for a Newfoundland and Labrador licence provided: you are 17 years of age or older, your existing licence has not been cancelled or revoked, and your licence is expired for no more than 5 years. Information on the process of obtaining a licence, documents required and application forms are available at the

Driver Licensing website

. Please note that driving licences are classed 1-5. Class 1-4 are commercial drivers. If you are simply looking for an individual licence, it is class 5. Please note as well that drivers under 18 need to be re-tested for the driver's licence or permit. The

Driver Licensing website

also contains important information about obtaining a driver's licence for new drivers, the Road User's Manual, and information about medical testing.

Campus parking permit: Sales of parking permits are handled through Campus Enforcement and Patrol, in the Facilities Management Building, Room 1018. For those working in the Health Sciences Complex, permits can be purchased in Room H2720. Postdoctoral Fellows will need to show their Letter of Appointment as well as having their vehicle registration with them.
HR PIN: All Postdoctoral Fellows are sent an employee number and Human Resources PIN (personal identification number) from the Department of Human Resources after confirmation of their appointment. Any problems with the HR PIN may be addressed through the Human Resources Help Desk at 864-2434.

Employee Self-Service: The Department of Human Resources has an online

employee self-service portal

(ESS) that allows you to view or change personal information through the my.mun.ca. This site contains information on paystubs for PDF-Es, Employee Equity information, etc. For assistance with your login to ESS, you may contact the Human Resources Help Desk by calling 864-2434.

Email and wireless Internet: Postdocs may set up a

Memorial University email account

and get

wireless Internet access

by visiting the Department of Computing and Communications website.

Computing problems: The Service Desk is the first point of contact for Postdoctoral Fellows with computing problems or queries. You may call 864-4595 with questions, submit them to help@mun.ca, or visit the Henrietta Harvey Building (HH-2012).

The Computer Purchasing Centre: The

CPC

is a not-for-profit operation mandated to service the Memorial University community, offering discounts and benefits from pricing and programs negotiated nationally for Canadian universities and colleges. This is where faculty, staff, postdoctoral fellows, and students often go to purchase computers or software.
Postdoc Orientation: Once a year, the School of Graduate Studies hosts a Postdoctoral Fellows Orientation, which includes several presentations and a lunch. You should receive a formal invitation by email about a month before the Orientation.

Memorial University Campus Card: You will need to get a Campus Card for identification purposes. This card is issued, and the photo taken, at the Bookstore in the University Centre, Room UC2006. Postdoctoral Fellows must present their employee number or their Letter of Appointment in order to obtain the card.

Memorial's Libraries: The Memorial Campus card serves as your library card. Visit the

library website

for full information on borrowing privileges and the range of Memorial's libraries services. Visit the Circulation Desk to obtain a PIN (Personal Identification Number) for off-campus web access to online journals, databases, e-books, and videos. If you wish to consult with librarians with expertise in finding information in particular areas, for teaching support, to reserve materials, go to

Make a Request

on the website.

Business cards: Memorial University business cards are available to Postdoctoral Fellows through Printing Services. Please contact the general administration office of your academic unit to order business cards.

Yaffle.ca: Postdoctoral Fellows are encouraged to submit lay summaries of their research interests and projects on

Yaffe

, Memorial University's proprietary search engine that connects your research to an international audience.