Basket-making in Newfoundland and Labrador
Basket-making in Newfoundland and Labrador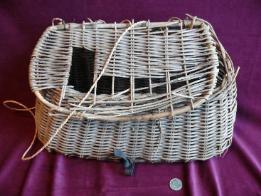 Ranging in style, material, intent and purpose, basket-making is a long-standing tradition in parts of Newfoundland and Labrador since earliest Western record. These baskets were used for a variety of purposes within the fishery and also for gathering small food items like eggs and berries. There were trout baskets used for inland fishing, baskets used for storing domestic items in homes, and basket-style bassinets. The basket-makers include Labrador Inuit, Mi'kmaq and Acadian along the Southern Shore and West Coast, as well as independent craftspeople throughout Newfoundland.
Labrador Coiled Grass Baskets
The Moravian missionaries mentioned baskets in their accounts of life in Labrador in the 1800s, but the tradition likely existed long before this recorded data.
Made from sewing salt water grass into tight coils, the most common baskets are round and have a pointed lid with a small bulbous handle. Other examples include oval and round bowl-shaped baskets with decorative edging encircling the rim. In all cases, the maker is careful to keep the shiny side of the grass facing out and uses a needle with a large eye to sew the strips of grass into coils.
Timing is important in harvesting the grass. It needs to be collected after the first frost to ensure that it's been properly bleached and has the right colouring, but before the first snowfall blankets the ground and soaks the grass. The grass takes about a week to dry and needs to be laid out immediately to avoid moulding. Once dry, it can be kept for years.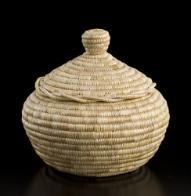 Some baskets are a natural straw colour while others employ dyes, both natural and commercial, to create patterns into the weave. The natural dyes, most often red, are produced by soaking the grasses in a solution of red berries, also called partridgeberries, and water. This is time consuming and often commercial dyes are employed instead.
A grass basket-maker of note is Garmel Rich (born 1939), originally from Bluff Head and currently residing in Happy Valley. She learned the craft as a child and demonstrated her work at Vancouver's International Expo in 1986. She has since passed on her basketry skills to a younger generation ensuring the persistence of the grass basket-making tradition in Labrador. She continues to engage in the craft of basket-making today.
French Shore & Mi'kmaq Spruce Root Baskets
The woven spru
ce root basket's current form can be traced to one man: Anthony White (1915-1990) of Shallop Cove. Mr. White learned the craft by watching his mother, Adelaide (Benoit) White, of Mi'kmaq lineage, a well-known basket-maker. Originally, the baskets were used by Mi'kmaq people for transporting harvested berries and other small foods.
Mr. White returned to the craft in his retirement in the 1970s. Like Ms. Rich, Mr. White represented Newfoundland and Labrador in the traditional crafts exhibit at the 1986 Expo in Vancouver.
The basket frame is shaped out of peeled witherod, spruce, birch or cherry into a bowl shape, and, after being soaked for pliability, the spruce roots are woven tightly through the ribs to create the body. There is a single handle that arches across the open face of the basket and is attached on both sides by diamond shaped knots, sometimes referred to as "the ears."
Along with being a well-known and prolific basket weaver, Mr. White taught the craft, disseminating his traditional knowledge and preserving the tradition. He taught basketry for a semester at the Bay St. George Community College. One of the students in Mr. White's course was Eileen Murphy who has kept up the tradition and teaches the art of spruce basket weaving to her students at G.C. Rowe Junior High School in Corner Brook in their Newfoundland and Labrador Crafts Class. In 2009 Ms. Murphy taught the skill to Professor Barb Hunt's first year visual arts students at Sir Wilfred Grenfell University in Corner Brook.
Mr. White also taught his son Daniel the art of spruce basket-making and, in turn, he reintroduced the skill to the Conne River Mi'kmaq community on the South Coast.
The Millworker's Basket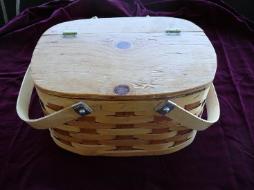 The millworker's basket in Grand Falls-Windsor was a ubiquitous site until the closure of the pulp and paper mill in 2009 after 104 years in operation. Jane Burns writes that the basket was "the symbol of a permanent job at the mill, an artifact used in pranks by men while at the mill and a basket that many women have packed with great care." Further, Burns points out that "the separate sphere of men's industrial work and women's domestic work are both linked and separated by this object."
The millworker's baskets varied in shape, from oval to rectangular, and in provenance (factory made of unknown origin, or locally made) but they were an instant marker of identity for the men who carried them. They were used by millworkers in Grand Falls-Windsor, Stephenville, Corner Brook, and other areas of the province.
When writing about the roles of these baskets in 2002, Burns noted that the craft is dying off, relating this fact to the declining workforce at the local mill. At its' peak the plant employed 1000 people and by 2002 this number had dwindled to 300. AbitibiBowater closed the mill in 2009 and thus there's no longer a market for millworker's baskets.
The millworker's baskets were of a rounded rectangular or oval shape woven splint-style with thick pieces of juniper, vinyl or birch and shaped by pieces of wood or steel. There are two handles that swing apart in order to accommodate a flat lid, made of wood and attached by hinges. It isn't clear where the design originated, but it may have been a case of a craftsperson replicating a factory-made object, which was seen often in other material goods in Newfoundland and Labrador. A second theory is that the design was appropriated from baskets that Nova Scotian Mi'kmaq women sold along the Newfoundland railway in the 1940s and possibly earlier.
One millworker's basket-maker of note is Angus Gunn (1913-1998) from Grand Falls. Burns writes that "in Grand Falls-Windsor it seems to have been important to many millworkers to have a basket made by Angus Gunn...his baskets were treasured because they looked good and lasted a long time." His early baskets were made from hockey stick handles (sawn into thin strips and softened by soaking in water). He switched to birch following the introduction of laminated sticks. Mr. Gunn's baskets could be identified by the thin piece of steel that rimmed the bottom as a means of reinforcement. His baskets were also stained to make them waterproof. These careful touches ensured durability. Andrew Barker writes that "the owners of the lunch baskets took such good care of them that they often lasted a lifetime of work at the mill.
Researched and written by Emily Urquhart, February 2012.
Links:
Digital Archives Initiative Basket and Basket Making Collection
Article on HFNL's mill basket research project

Bibliography
Author unknown. " Basket Making-Reviving an Old Tradition". Miawpukek Aqnutemakn 1,no.4 (1996): 3.
Barker, Andrew. "Lunch Baskets". Newfoundland and Labrador Arts and Letters Award, Senior Division Non-Fictional Prose 2010.
Burns, Jane. "The Multiple Roles of the Millworker's Lunch Basket in Central
Newfoundland". Material History Review 55 (Spring 2002): 53-64.
Butland, Grace. "Baskets of Atlantic Canada". Saltscapes 2, no.6 (2001): 23-26.
Gale, Donald. Francie and the Basket Women. (St. John's: Breakwater Books, 2002).
Gordon, Joleen. Acadian Root Baskets. (Nova Scotia: Nimbus Publishing LTD, 2005).
Gunn, Frank. Gunn History. Unpublished Document. 2012.
Innes, Fran. "A Tisket, a Tasket, I found a Yellow Basket". Decks Awash 8, no.4(1979):60-61.
Nippard, Beverly. "Artists of Labrador: Garmel Rich". Them Days 31,no.4 (2007) : 55-61.
Nippard, Beverly. " The Art of Grasswork". Labrador Life, (Winter 2008-09): 14-18.
Penney, Nicole. Research Interview with Wayne Green for Intangible Cultural Heritage on the topic of Basket Making in Newfoundland. 2012.
Sir Wilfred Grenfell University. "Grenfell VA students learn art of spruce root basket making."www.swgc.mun.ca. January 1, 2010.
http://www.spiritwrestler.com/catalog/index.php?artists_id=722
http://www.swgc.mun.ca/releases/Lists/Release%20List/DispItem.aspx?List=a4175b78-ad69-4a24-a96c-cbd3aed57989&ID=599.
Wheeler, Sandra. " Branching Out". Intangible Cultural Heritage Update, (March 2010):3.