Custom Training for Employers
Optimize your organization's strategic objectives with customized professional development training.
Partnering with Gardiner Centre is a cost-effective way for your organization to address knowledge and skills gaps, build on existing skills, build stronger teams, and learn new practices to apply back in the workplace. Whether in person or live online, Gardiner Centre's training maximizes knowledge transfer using interactive practices including group activities, personal reflection, and new skill application.
Gardiner Centre's custom training solutions are dynamic, flexible and tailored to fit your specific requirements. We customize existing offerings, recommend topics to meet your organizational development needs, and develop co-branded certificates to meet specific needs.

Bringing your organization together for a custom learning experience will demonstrate your commitment to employee development, foster a sense of trust and unity among groups, bring a renewed sense of dedication to achieving common goals, and empower your employees to succeed.
Our commitment is to work with you to design training that aligns with your strategic professional development objectives and moves your organization forward.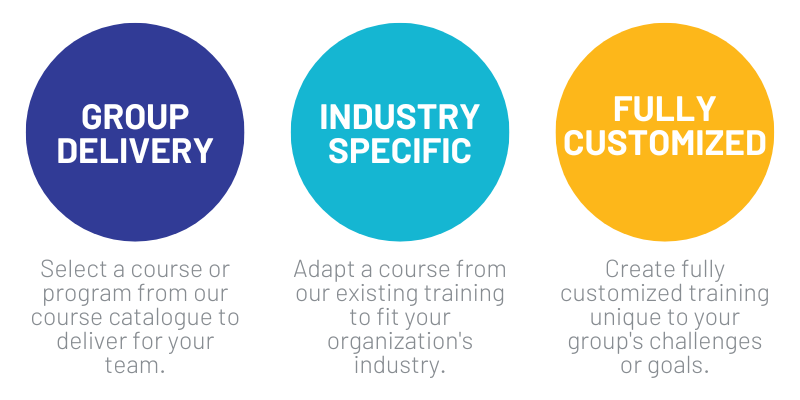 Custom Training Process
Needs Assessment – Sharing of information to understand organizational challenges and to determine how and what training can better prepare the workforce for upcoming projects and challenges
Content Design – Collaboration with our team and expert instructors to develop a detailed design of learning objectives, content, and teaching methods that meets your organizations needs and learning style
Delivery – Consultation to define the optional time, location, class composition, and onsite experience details to achieve maximum impact
Evaluation – Post training evaluation and feedback to assess impact and inform future training
Start planning your team training!
Connect with our Custom Training and Partnerships Lead, Susan Arscott, at sarscott@mun.ca or 709-864-3596.
What our clients are saying...

Did you know?
Your organization may be eligible for tuition support for professional development training. Assess your eligibility by visiting The Canada – Newfoundland and Labrador Job Grant Program website. The program provides financial assistance to private and non-profit employers to offset the cost of providing training to new or current employees. Employers can access up to $15,000 per trainee!