Accessibility and Inclusion Commitment
Gardiner Centre knows that a safe, inclusive, and accessible learning environment increases learner participation and knowledge transfer – both key to advancing new skills. As a result, Gardiner Centre continues to do our best to make training safe, inclusive, and barrier-free for all learners.

Accessible Facility
Located in the Emera Innovation Exchange at Memorial University's Signal Hill Campus, Gardiner Centre hosts a variety of accessible features.
• Wheelchair accessible parking spaces
• Curb ramps
• Automatic doors
• Non-slip flooring
• Lever door handles
• Thumb locks
• Motion sensor water stations
• Gender-neutral bathrooms
• Accessible bathrooms
• High contrast signs with braille and icons
• Floor grips indicating elevation change
• Scent-free space
• Handrails
• In-class hearing assistive technology
• Access to assistive learning technology through Accessibility Services (The Blundon Centre)
Accessible Training
Gardiner Centre training is now widely accessible online. Online training allows participants to join from all across Canada and also enables participants with low mobility to access high-quality training from the comfort of their own space.

Gardiner Centre works continuously to adapt training and provide the best possible experience for all learners. Our training is designed to embrace a variety of learning styles including auditory, visual, and kinesthetic learning. The course curriculum is meticulously designed to include lectures, hands-on activities, discussion, reflection, and writing exercises to maximize knowledge transfer for any type of learner. Gardiner Centre also recognizes neurodiversity beyond these learning styles and is happy to work with participants to adapt the training to meet their unique needs. Not only does this ensure all participants receive a great training experience but also advises Gardiner Centre on where they can continue to improve.
Creating an Inclusive Environment
Gardiner Centre Embraces the CASM model for inclusivity and respect in the classroom - virtual or not. This model is introduced to participants at the beginning of each course and program and sets the expectations for everyone in the classroom.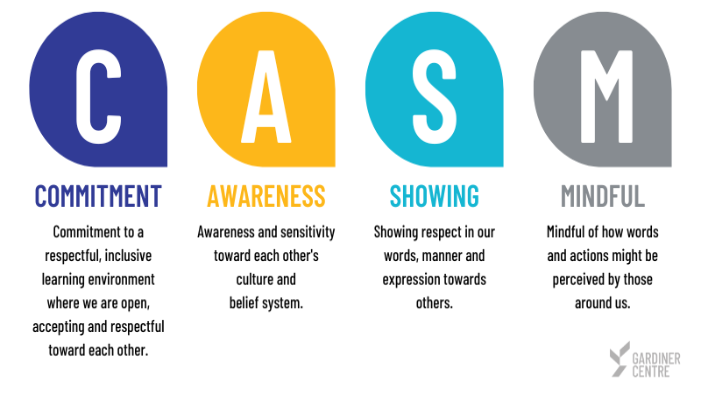 Gardiner Centre is committed to providing accessible and inclusive professional development and welcomes new opportunities to continuously learn, grow, and improve. If you would like to make a suggestion or recommendation on how we can improve our training, please email us gardinercentre@mun.ca or; call us at 709.864.7977.