Certificate Program Info
Mastering Business Essentials Program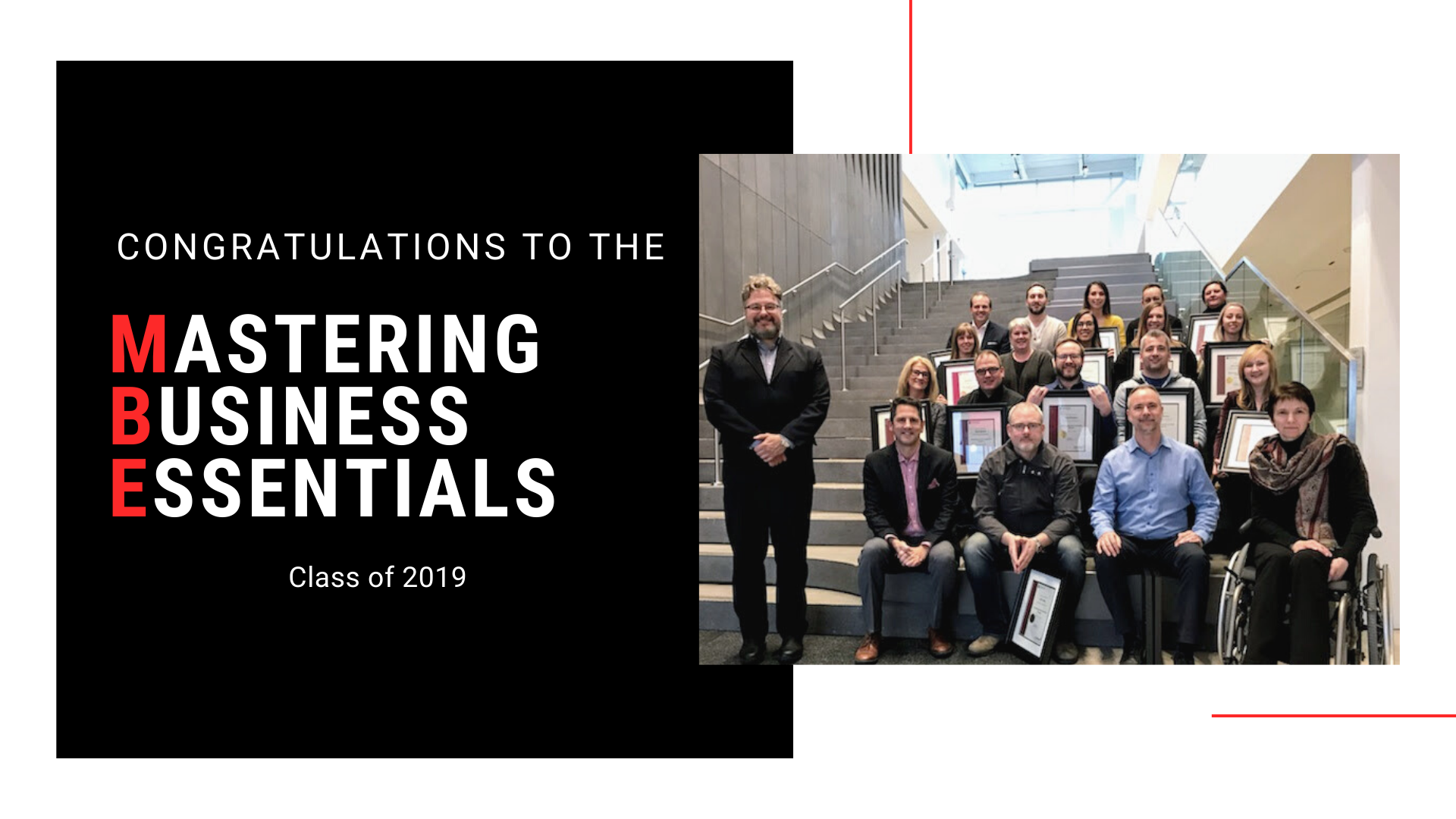 The Mastering Business Essentials program focuses on the most critical "need-to-know" elements in business, allowing you to sharpen your ability to make strategic decisions in today's complex business environment. Participants learn how to see the bigger picture by gaining knowledge in key disciplines such as accounting, finance, economics, operations/processes, marketing, human resources, and project management and learning how to apply them to increase productivity and profitability. The Program takes theoretical material and relates it to practical, real-world examples and exercises providing you with tools and techniques to apply immediately back at work. This comprehensive 9-day program is delivered in 3 blocks over 8 weeks. 
Key Learning Outcomes
Achieve business growth
Make strategic business decisions
Budget and managing cash flow
Review and analyze the components of financial statements and translate it to operational activities
Analyze market conditions
Hire, fire, keep & motivate employees
Develop a marketing strategy
Improve process flows
Manage capacity and resources
Manage projects
Better present yourself professionally, network, influence others, and facilitate meetings
The Mastering Business Essentials Program is designed to help those who are:
Looking to transition into a managerial position
Professional people who don't have a background in business but who quickly need to come up to speed on today's cutting edge practices
Entrepreneurs who would like to develop a well-rounded business acumen
Technical professionals looking to broaden their skills and advance in their organization
Business people who are re-entering the workforce and are looking for a refresher in business knowledge and skills
Continuing Education Contact Hours: 63
Program Schedule
| | |
| --- | --- |
| Pre-Program Self-Assessment |   |
| MODULE 1 |   |
| Day 1 | Strategic and Environmental Analysis/Case Introduction |
| Day 2 | Business Economics/Finance Models |
| Day 3 | Business Processes and Technology |
|   |   |
| Business Case Group Assignment |   |
|   |   |
| MODULE 2 |   |
| Day 4 | Marketing and Business Development |
| Day 5 | Accounting and Budgeting |
| Day 6 | Talent Management |
|   |   |
| Business Case Group Assignment |   |
|   |   |
| MODULE 3 |   |
| Day 7 | Fundamentals of Project Management |
| Day 8 | Management Skills |
| Day 9 | Moving Forward/Case Presentations |
Program Fees
The fee for the Mastering Business Essentials Program is $4950 CDN + HST.
The program fee includes full 3-module program, all teaching materials and a framed certificate.
Memorial University's liability is limited to reimbursement of paid fees.
Financial Assistance Available
The Canada – Newfoundland and Labrador Job Grant Program provides financial assistance to private and non-profit employers to offset the cost of providing training to new or current employees. Employers can access to up to $15,000 in government support for employee training per trainee! More information on the funding application can be found here. 
Cancellations, Replacements and Transfers
If you are unable to attend the program, you may transfer to the next session or your organization may name a replacement candidate.
Only one module transfer to an alternate session will be permitted (subject to space availability) without penalty. Each subsequent transfer request has a $100 administration fee.
A full refund will be issued for written cancellations received a minimum of 21 days before the program start date. Written cancellations received after this date will incur an administration charge of $400 +HST.
Non-attendance or withdrawal after the program start date will incur a full program fee.
---
Details
---