OnBase Electronic Document Management Solution
We are excited to bring you a new version of OnBase! For current OnBase users, OnBase EP5 Foundation is now available to download and access. Changes to the user interface are minimal but OnBase Foundation EP5 will include new features and functionality.

OnBase Foundation EP5, by Hyland, is Memorial's electronic document management solution and combines document imaging with electronic document management tools to capture, preserve, and deliver documents in digital form.
FAQ
To uninstall an old version of OnBase:
Step 1: Type OnBase in the search window

Step 2: Right-click on the Hyland Unity Client [OnBase-Prod-Unity-AD-v17-Https3]

Step 3: Select Uninstall from the list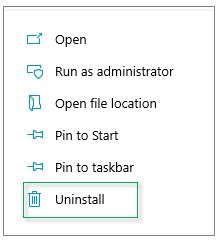 Step 4: Click to select Hyland Unity Client [OnBase-Prod-Unity-AD-v17-Https3]

Step 5: Select Uninstall or change a program


Step 6: Click, OK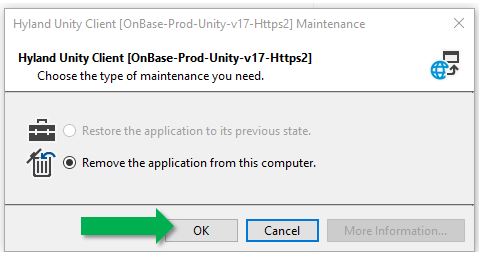 To access OnBase you first need an active OnBase account and access to a business process in OnBase. The instructions below are for St. John's, Signal Hill, and Labrador Campuses only. Grenfell and MI OnBase users should contact their IT Service Desk for instructions.
Note: You may be prompted to restart your machine when installing OnBase. Save your work to avoid losing data.
Step 1: Open Software Center on your PC Desktop

Step 2: Select OnBase Client 21 under the Available Software and click the blue Install Selected button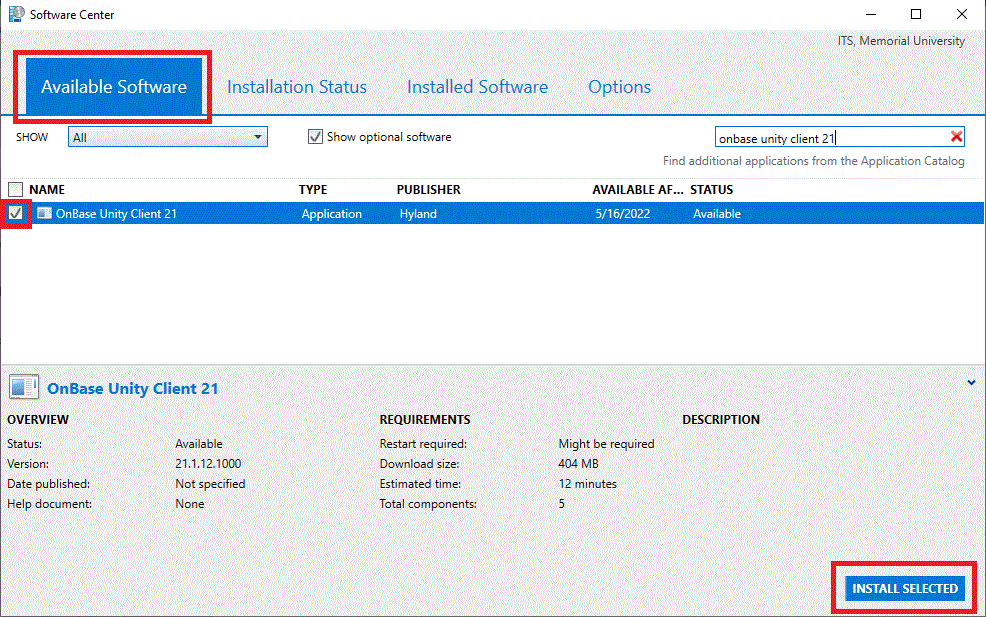 The installation will move to the Installation Status tab while installing and once installed, the new version will be listed under the Installed Software tab.
Your machine may not have the required version of Microsoft Visual C++ installed. If needed, it will automatically install.
Step 3: A restart of your machine is required to complete the installation.
Mac users with an active OnBase account can access OnBase via the Web Client. The Web Client is supported on the following browsers in macOS:
Google Chrome 89 or greater
Mozilla Firefox 87 or greater
Mozilla Firefox Extended Support Release (ESR) 78 or greater
Safari 14.0 or greater, with the exceptions of full-screen mode and Safari Reader
If you have issues opening the OnBase Web Client on a Mac, please contact the ITS Service Desk
Firefox is a supported browser for both Windows and Mac operating systems. The steps below outline the settings required in Firefox to open the OnBase Web Client on a Windows machine.
Open Firefox
Type about:config in the address bar
Click the Accept the Risk and Continue blue button
Type negotiate in the search box
Click the pencil icon next to network.negotiate-auth.trusted-uris
Enter .wds.mun.ca and click on the blue checkmark

To use the OnBase Web Client you must have a browser that is compatible with OnBase Foundation EP5. OnBase will automatically block login attempts from unsupported browsers.
Below is a list of compatible browsers:
Google Chrome 89 or greater
Microsoft Edge 89 or greater
Microsoft Internet Explorer 11 (IE11) running in IE 11 document mode
Mozilla Firefox 87 or greater
Mozilla Firefox Extended Support Release (ESR) 78 or greater
To login to OnBase Foundation EP5, you must have an active OnBase account and be logged into the MUN Network. To access OnBase while you are off-campus you will need Virtual Private Network Access (VPN) or remote access.
Contact the IT Service Desk if you get a "Login failed. Either the Credentials were incorrect or the specified account" message when you try to log in to OnBase.
Quick Reference Guides for Memorial Users
OnBase Quick Reference Guides have been developed for Memorial users to provide a visual overview of the steps involved in using different features of OnBase. The following guides are available for use:
*OnBase is a registered and/or unregistered trademark of Hyland Software, Inc. in the United States and other countries