2014 Memorial University Biophysics Symposium
The 2014 Memorial University Biophysics Symposium was held on October 4 at the Memorial University of Newfoundland, St. John's, NL, Canada. The symposium featured talks by 3 leading Canadian and international speakers and 13 student poster presentations. Dozens of researchers from chemistry, biochemistry, physics, pharmacy, and the health sciences attended.
Speakers
James (JC) Gumbart
Assistant Professor
School of Physics
Georgia Institute of Technology
Atlanta, GA, USA

Professor

Department of Biology

University of Waterloo

Waterloo, ON, Canada

John Baenziger
President of the Biophysical Society of Canada
Professor
Department of Biochemistry, Microbiology and Immunology
University of Ottawa
Ottawa, ON, Canada
Sponsors
Event Photo Gallery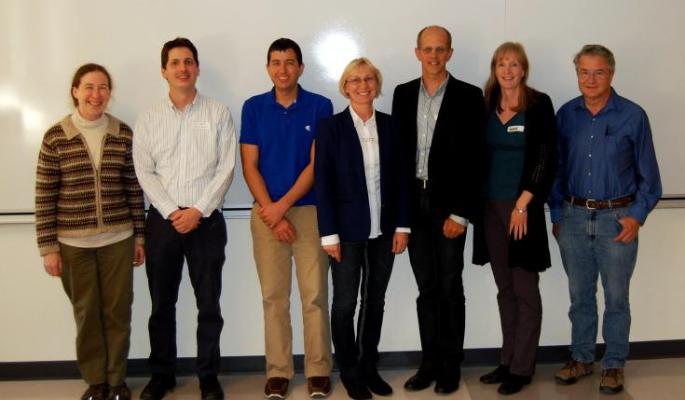 Award Winners
NVIDIA Award for Best Poster
Justin King, for the poster "Mutational Analysis and Molecular Docking of Activation Induced Cytidine Deaminase (AID) with DNA Highlights Novel Regions of Catalytic Importance"
Special Mention
Jessica Besaw, "A Structural Study of the C-terminal Domain of FOXL1"
Art of Biophysics Competition
Asia Ahmed Alhasawi
Mahzad Sharifahmadian
Mohammad Hassan Khatami



Registrants
Asia Alhasawi
Ernest Awoonor-Williams
John Baenziger
Jessica Besaw
Valerie Booth
Abhijit Chatterjee
Wael Demian
Zhe Dong
Kari Gaalswyk
Tadiwos Getachew
JC Gumbart
Carolyn Harley
John Heath
Yasaman Jami
Mohammad Hassan Khatami
Justin King
Zoya Leonenko
Feng Li
Shanmei Liu
Terri Lovell
Erika Merschrod
Chris Miranda
Maryam Beyramzadeh Moghaddam
Michael Morrow
Christopher Rowley
Gagandeep Kaur Sandhu
Nury Paula Santisteban
Lucas Stewart
Reza Tabrizchi
Ryan Wilkins
Organizing Committee
Christopher Rowley, Assistant Professor, Department of Chemistry
Valerie Booth, Associate Professor, Departments of Biochemistry and Physics
Mike Morrow, Professor, Department of Physics and Physical Oceanography
Erika Merschrod, Associate Professor, Department of Chemistry
Jessica Besaw, M.Sc. Candidate, Department of Chemistry