What Makes Return-to-work Work
Leadership Roundtable
September 26, 2019 | Signal Hill Campus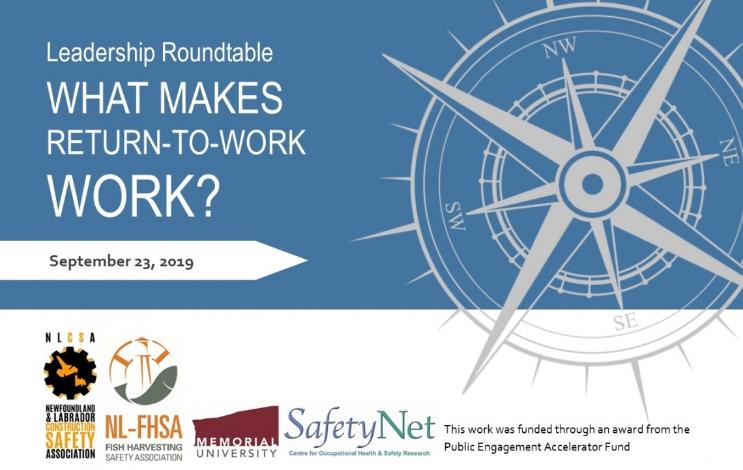 Key industry leaders were invited to collaborate with other stakeholders in the Leadership Roundtable on What Makes Return-to-work Work to address what is currently being done for return to work in Newfoundland and Labrador and what could be done to improve outcomes in key sectors of our provincial economy.
Memorial University researchers Dr. Kim Cullen and Dr. Stephen Bornstein collaborated with stakeholders from the Newfoundland and Labrador Construction Safety Association, NL Fish Harvesting Safety Association, and Atlantic Offshore Medical Services to host this Leadership Roundtable.
The goal for this 1-day, multi-stakeholder collaborative dialogue was to present the most up-to-date research evidence on "what works" in return-to-work and to discuss how evidence might be applied in our industry contexts to explore "how can it work here". Facilitator-led conversations focused on:
what have we tried?
how well has it worked?
what barriers and facilitators are encountered on the ground?
are there strategies that might prove more effective?
Reports
Additional resources
Contact
For more information, contact: Dr. Kim Cullen, kcullen@mun.ca
This project was funded through a grant from the Public Engagement Accelerator Fund.