Vital Signs
Newfoundland & Labrador's VitalSigns: Just the beginning!
Newfoundland & Labrador's VitalSigns® is more than just a report. It is an integral part of an ongoing process of discussions and research about the health of the province across several key areas. The Community Foundation of NL and the Harris Centre facilitate conversations with key individuals and groups in preparation of the next report. These conversations will inform additional research in areas that may need a closer look.
In October 2022, we released NL's eighth Vital Signs report, delivering easy-to-read statistics and stories on with a focus on climate change in our province to 100,000 homes, business, and organizations across Newfoundland and Labrador, including all public libraries, through our partnership with TC Media.
In today's challenging economic landscape, putting relevant, accessible research and data into the hands of community leaders – from the boardroom table to the kitchen table – is even more critical.
Support NL's Vital Signs Report
Consider joining with us to provide this essential resource to our communities. Learn about becoming a sponsor for a future report! Contact Cathy Newhook, cathyn@mun.ca.
Learn more about partnership opportunities here.
Read the latest Vital Signs report!
Click here to access the PDF: Vital Signs Report 2022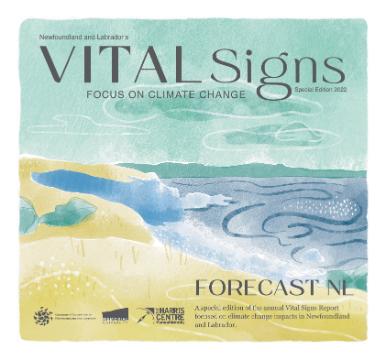 2021
2019
2018
2017
2016
2015
2014