The 2WSFC was a Resounding Success
Oct 23rd, 2014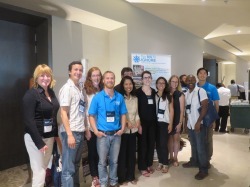 The 2WSFC was a Resounding Success
We are happy to report on the success of The Second World Small-scale Fisheries Congress (2WSFC) and to acknowledge the major role that Memorial University, and in particular the Geography Department, contributed to the event's realization. The congress, which took place in Merida, Mexico, 21-26 September 2014, was jointly organized and co-hosted by Professor Ratana Chuenpagdee of Too Big To Ignore (TBTI) and Professor Silvia Salas of CINVESTAV, Merida, Mexico. The congress attracted 400 attendees and featured more than 250 presentations. Memorial University was represented by a group of 15 participants, including professors, students, and staff. We are proud to note that of the 15 from MUN, 10 were from our own Geography Department.
Our geography contingency included Professor Ratana Chuenpagdee, Professor Rodolphe Devillers, students Chloe Poitevin, Victoria Rogers, Mirella Leis, Olivier Randin and staff members Vesna Kerezi, Andrea Quigley, Randal Greene and Eric Rogers. Two former students, Dr. Ahmed Khan and Dr. Andrew Song, were also part of the MUN team. Charlene Walsh (far left) represented our partner organization, Marine Institute.
A number of features on the 2WSFC will be posted in the coming weeks written by TBTI students. Topics will include: the launch of the ISSF; student forum; TBTI research; food security; field excursion; SSF guidelines; and Pesca-kucha.
Written by: Vesna Kerezi, TBTI Assistant Coordinator
Too Big Too Ignore (TBTI) is a research network knowledge mobilization partnership funded by Social Sciences and Humanities Research Council (SSHRC). For more information, please visit http://toobigtoignore.net/.