MUN Research Week and Geography Awareness Week
Nov 25th, 2022
The Department of Geography marked the beginning of the Memorial University's research week — and the end of Geography Awareness Week — by showcasing its research efforts through a floor map of Newfoundland and Labrador with researchers stationed at different parts of the province.
The successful Giant Floor Map event saw about 125+ visitors to the map at The Rooms on Sunday, November 20th and CBC dropped by at the QEII library event on Monday, November 21st.
You can find coverage of the Monday event on the CBC Here and Now program. Click on the November 22 episode and go to the clip that starts at 47:50.
See the web site story here.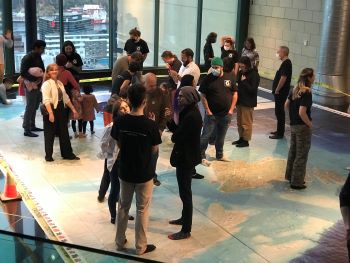 MUN Geography students presenting their research work at the Rooms.