MUN Geography Major Studies in Antarctica Over Christmas Holidays
Jan 24th, 2014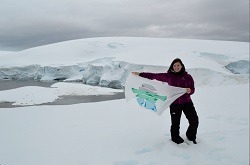 MUN Geography Major Studies in Antarctica Over Christmas Holidays
Through the program Students On Ice, 3rd year MUN Geography student Caitlyn Baikie studied the impacts and management of tourism in Antarctica with Dr. Pat Maher (University of Northern British Columbia) and Dr. Hans Gelter (Luea University of Technology).
The Antarctic Peninsula is not your typical classroom, but for Caitlyn Baikie, of Nain, Nunatsiavut, a 3rd year MUN Geography student, it provided the perfect location to study the impacts and management of Antarctic tourism. This Christmas Caitlyn participated in the latest expedition by Students On Ice, an organization which takes high school and university students from all corners of the world to the Polar Regions to partake in the educational experience of a lifetime. The latest expedition took 70 students from seven different countries and world leaders in Tourism, Marine Ecosystems, Antarctic History, and Geology to the Antarctic Peninsula to experience the remote landscape over a nine-day period. The journey started in Ushuaia, Argentina where students and leaders had an opportunity to meet before boarding the M.V. Ushuaia to set sail for Antarctica. It was here that Caitlyn and fellow tourism students got an understanding of how the tourism industry is influencing the local economy and culture. After two days of sailing through the Beagle Channel and Drake Passage, the students were greeted by hundreds of Minke, Orca and Humpback whales as they sailed along the Antarctic coast before taking zodiac cruises to explore the remarkable landscape and finally step foot on the Antarctic continent. For many, this was a once in a lifetime experience that was both educational and transformative.
Along the journey expedition members visited penguin colonies with populations of more than 5,000 and participated in zodiac cruises to tabular icebergs that were many kilometers wide. The Polar Regions are amongst the most sensitive to human activity therefore it is these types of fragile ecosystems that should be preserved for future generations. Students On Ice aims to educate expedition participants about the impacts that each individual can have on the environment, with their main goal being to create new ambassadors for their respective homelands. This experience in Antarctica has left a lasting impression on Caitlyn as she observed the obvious changes to the landscape with each visitation to the continent along the voyage. Change is inevitable in the remote and fragile Antarctic, and Arctic. Through this expedition, Caitlyn hopes to carry this unique opportunity with her and to let it guide her passion for protecting the Polar Regions during the rest of her studies at Memorial University.
For more information on the expedition and how to get involved, visithttp://www.studentsonice.com/.