Kristen Lowitt successfully defends her PhD thesis
Sep 17th, 2013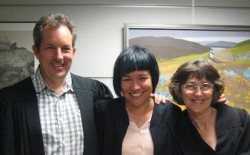 Kristen Lowitt successfully defends her PhD thesis
Food security is an important issue in Canada, and internationally, but the focus of research has traditionally been on land based food production. The role of fisheries in food security has been severely neglected, and Kristen's PhD thesis has provided a crucial contribution to debates on food security. Her work explores the relationship between fisheries restructuring and changes in how people are accessing, preparing fish and eating fish. Kristen used a number of different methods to examine fish and its relationship to food security including household food provisioning interviews, a seafood survey, participation observation, and historical research about traditional foodways around Bay.
One of the important policy recommendations of Kristen's work is that fisheries should be viewed as more than a commodity for export. As she argues, fish is also food, and this has implications for how we manage this important resource.
The results of Kristen's work have been published in several peer-reviewed journals including Newfoundland and Labrador Studies, the Journal of Hunger and Environmental Nutrition and Alternatives Journal.
Kristen won't have much time to recover from the PhD as she will be starting a post-doctoral fellowship at in October 2013. The position is with the Sustainable Futures Research Laboratory in the Department of Natural Resources Science at McGill. She will be joining a team of researchers who are focusing on food security and agricultural sustainability in the Caribbean, particularly on the island of St Kitts. Kristen will be spending the fall in Montreal before heading out to the Caribbean in the winter. We wish Kristen all the best for what promises to be the start of an amazing career!